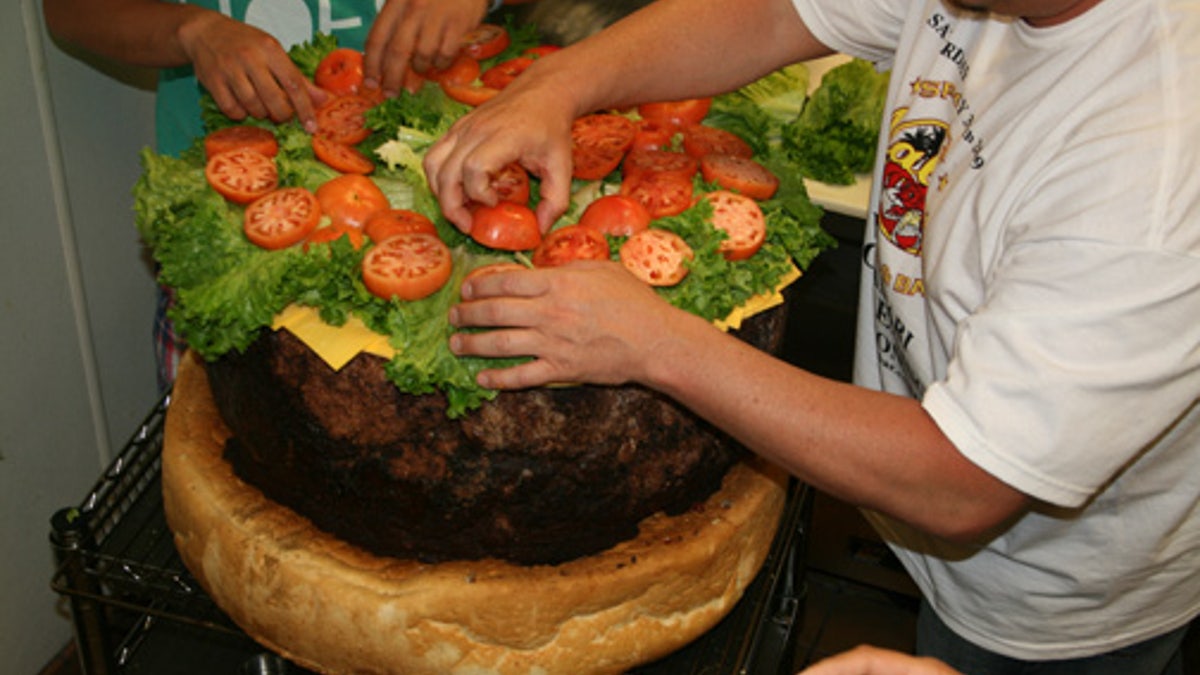 So, grill-seekers, figure you can polish off any patty? Well think again, because these whoppers will more likely finish you. Here are six extreme burgers to test even the biggest of appetites.
Extreme Burger
The aptly-titled Extreme Burger features six half-pound patties stacked one on top of the other. This leaning tower of meaty madness comes piled high with bacon, mushrooms and cheese and a sauce made from Naga Bhut Jolokia -- a chili pepper recognized by Guinness World Records as the hottest on the planet. Oh, and just so you don't go hungry, the good folks at LBS: A Burger Joint in Las Vegas serve up this monster munch with a pound of fries.
Challenge Burger
This gut-busting behemoth certainly lives up to its name. With four pounds of succulent beef, four slabs of cheese and 10 slices of bacon served on an over sized glazed doughnut, this burger will practically need to be winched to your table. Scoff it down in an hour and staff at Burger Joint in Sanford, Maine, will let you waddle away without paying a penny. But at 16 times the size of a quarter pounder, it seems nobody is up for the challenge. "We currently haven't had no one try it," owner Gale McGrath admitted last August in a TV interview.
Le Burger Extravagant
For those feeling flush as well as famished, upscale New York eatery Serendipity 3 came up with what is officially recognized as America's priciest patty. Your $295 buys you Japanese Waygu beef infused with ten-herb white truffle butter, cave-aged cheddar, shaved black truffles, a quail egg and caviar all crowned with a truffle-buttered roll. And for that final touch of opulence, Le Burger comes impaled on a solid-gold, bejeweled toothpick. All proceeds go to charity, so sink your teeth in knowing you're helping the needy, if not your waistline.
Absolutely Ridiculous Burger
The motto at Mallie's Sports Grill in Southgate, Michigan, is go big or go home. And they've proved they can put their meat where your mouth is by regularly smashing their own Guinness World Record for the biggest commercially available burger, their latest weighing in at a belt-popping 338 lbs. This bovine graveyard requires 72 hours to prepare and three people to flip. For $1,999 you can eat in or have an army of delivery boys haul it to your home.
Fatty Melt
Torn between a grilled cheese and a burger? Well, fast food fanatics have found a way to combine these two calorie-crammed super foods. Simply place a think, juicy hamburger between two grilled cheese sandwiches and there you have it, the Fatty Melt. This diet-demolishing delight is said to have begun life at Mossy Creek Cafe in Fishersville, Virginia, as the Chubby Melt. But with everyone wanting a slice -- or four -- of the action, it soon spawned numerous imitations, including the Grilled Cheese Burger Melt at restaurant chain Friendly's.
Poop Burger
The previous burgers may have been extreme but this one is extremely gross -- so get ready to lose your appetite. Environmentally-conscious Japanese scientist Mitsuyuki Ikeda was so obsessed with waste that he quite literally turned it into food. His resulting "poop burger," as it was unceremoniously dubbed by the media, involved extracting protein from excrement and turning it back into an edible brown blob vaguely resembling a steak. Ikeda insists it tastes like beef and is "delicious" -- but few foodies have been brave enough to find out.