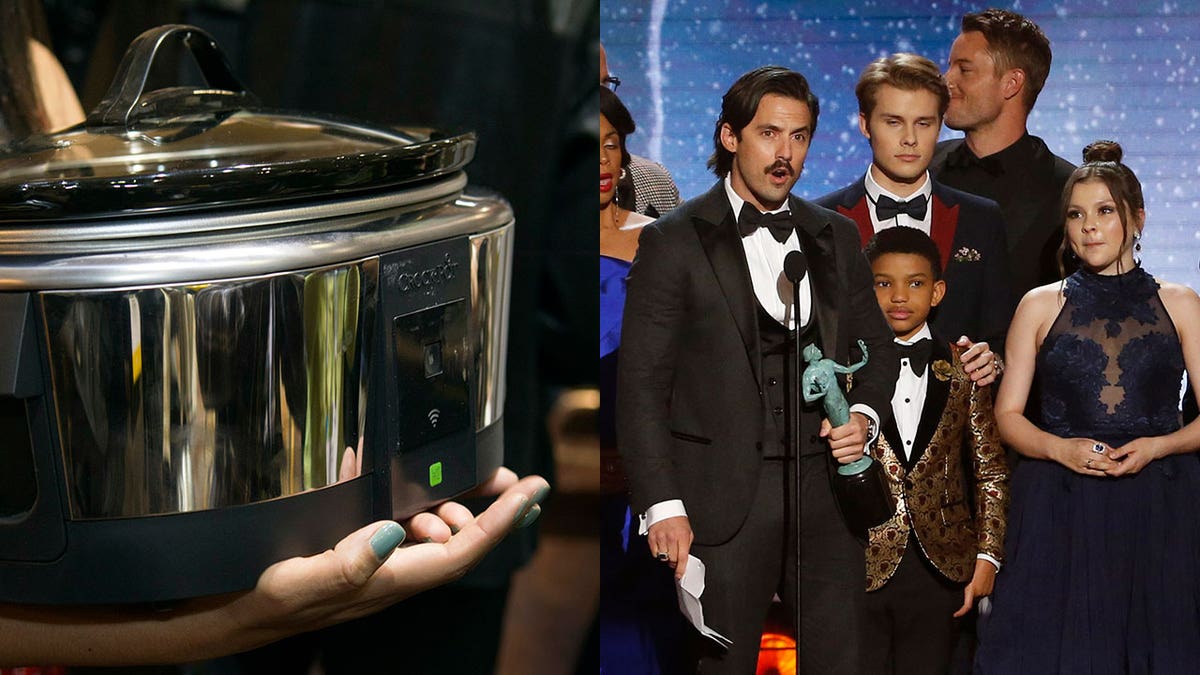 The PR department at Crock-Pot has found itself in the unusual position of having to defend its namesake product following an especially tragic episode of NBC's "This Is Us" — and the company appears to be doing some serious damage control.
WARNING: SPOILERS AHEAD FOR THOSE WHO HAVEN'T SEEN THE LATEST EPISODE OF 'THIS IS US.'
It was revealed on Tuesday night's episode of "This Is Us" that a faulty Crock-Pot might be to blame for the death of a fan-favorite character, and fans were understandably upset over the tragic turn of events.
But perhaps less understandably, they took their anger out on their Crock-Pots.
Over the course of the first two seasons of the NBC series "This Is Us," a series of flashbacks reveal that the patriarch of the Pearson family, Jack, died tragically sometime in the past. And finally, on Tuesday night, NBC gave viewers a pretty good idea of how he meets his end: A faulty Crock-Pot, given to him by a neighbor over a decade earlier, malfunctions and ignites the curtains in the kitchen of the Pearson family home just as Jack is seen going to bed.
Fans soon took to Twitter to voice their outrage over the scene, with some vowing to throw away their slow cookers over safety concerns, and others questioning whether they'll ever use the appliances again.
In response, Crock-Pot issued a lengthy statement in which they not only defended the appliance, but urged NBC to spread "factual information" about the safety of the Crock-Pot.
"Crock-Pot understands the concerns brought up by last night's episode of 'This Is Us,' and we too are heartbroken by the latest development in Jack's storyline," the company wrote in a statement obtained by Eater. "However, it is important that our consumers understand and have confidence that all Crock-Pot slow cookers exceed all internal testing protocols and all applicable industry safety standards and regulations as verified by independent third-party testing labs."
TACO BELL EMPLOYEE ASSAULTS MANAGER WITH HOT BURRITO
Crock-Pot's statement further attempted to assuage any viewers' concerns, writing that the devices are "low current, low wattage" and that there is "never a high voltage applied directly across our switches" — the switch being the element that malfunctioned in Tuesday's "This Is Us" episode.
"Our hope is that the team at NBC's 'This Is Us' will help us spread factual information regarding our product's safety," added Crock-Pot. "While we know their primary mission is to entertain — something they have continued to excel in — we also feel they have a responsibility to inform. Just like many fans, we will be watching next week's episode to see how Jack's story progresses and, regardless of the outcome, we want consumers first and foremost to know they are safe when using their Crock-Pot."
In a separate statement obtained by Fox News, the company reiterated that they "rigorously test our products for safety before they even hit the shelves."
"We understand why so many fans of the show are upset. 'This Is Us' does a great job of entertaining fans week after week. But, we at Crock-Pot, want to assure you that you may continue using your Crock-Pot with confidence," the company added.
A couple of Twitter users have also come forward to defend Crock-Pot in the wake of Tuesday's episode, including "This Is Us" creator Dan Fogelman, who basically reiterated that the show was depicting a "fictional" Crock-Pot with an "already funky" switch.
FOLLOW US ON FACEBOOK FOR MORE FOX LIFESTYLE NEWS
The Washington Post also noted that the Consumer Product Safety Commission has not recorded any injuries or fatalities due to faulty slow cookers, at least as far back as 2003.