Scotland Gin Society ads removed for claiming drink is healthier than fruit, exercise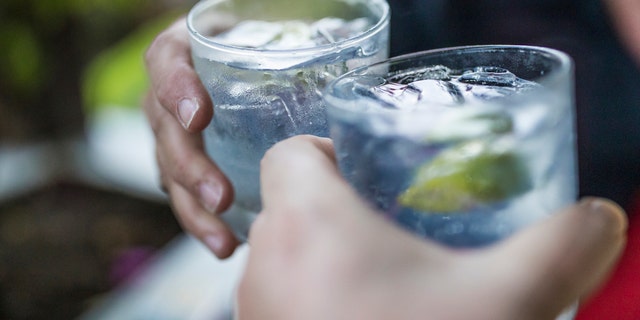 NEWYou can now listen to Fox News articles!
Citizens in Scotland have complained about advertisements used by the Scottish Gin Society to promote their beloved alcohol.
The complaints from the Aberdeen Alcohol and Drug Partnership accuse the society of violating the U.K's Advertising Standards Authority (ASA), which bans brands from using ads to encourage unhealthy drinking, link alcohol to sexual performance or promote false claims, like saying alcohol is healthier than a banana – a post the gin society put on Facebook.
GIN DRINKERS SPEND MORE MONEY DRUNKENLY ONLINE SHOPPING, STUDY REVEALS
Among the posts found problematic is an image of a gin and tonic with, "Healthy eating and exercise make you look better naked. So does gin. Your choice," written next to it.
Another says "A banana has 150 calories, a G&T has 110 calories, case closed."
LIQUOR COMPANY SLAMMED FOR RELEASING 'NOVICHOK' VODKA NAMED AFTER DEADLY NERVE AGENT
In addition to the "healthy" posts, the society also made advertisements the public felt encourage excessive drinking, like "Shut up liver, you're fine! Gin?" and "I only drink gin on two occasions: When I'm thirsty and when I'm not thirsty."
The gin group argued that the Facebook posts were not advertisements, and therefore did not fall under the ad code laws, CNBC reports.
FOLLOW US ON FACEBOOK FOR MORE FOX LIFESTYLE NEWS
The group removed the Facebook ads and issued a statement online saying they are a "not-for-profit organization" and do not feel their social media posts fall under ASA remit.
"Importantly, we see this as a warning to other social or community Facebook pages, who, following this ruling, may also be at risk of negative rulings by the ASA.
"We exist to promote and support the thriving Scottish Gin industry and the public who love it. While we have a light-hearted and fun personality, we do not think gin has magical or medical qualities, nor would we ever condone irresponsible or unhealthy consumption. It was never our intention to upset or offend anyone. We thank our followers for their continued support," the statement read.