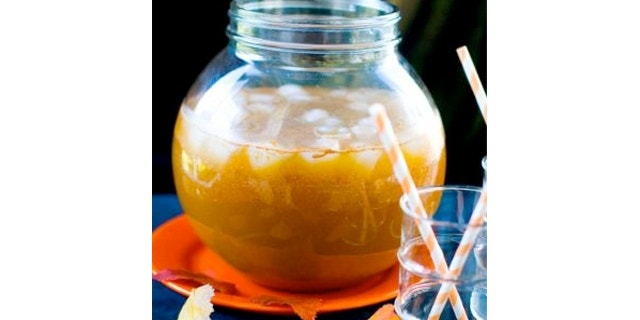 Whether throwing the Halloween rager-of a-lifetime party or shuttling a herd of costumed kids soon to be suffering from insulin shock around the neighborhood, Halloween calls for a stiff drink.
But getting in the spirit of the season, not to mention winding down from a night of sexy nurses, Anthony Weiner costumes and the occasional Pixie Stick-fueled meltdown, requires a special kind of cocktail.
Halloween is so many things to so many people that one might imagine it'd be tough to find drinks to suit. But precisely because of the holiday's rich history, there are legions of cocktails just waiting to top off a night of Jack-O-Lanterns, sugary-highs and men in women in uniforms they're not qualified to wear.
Even Halloween's heritage, based in pagan ritual, features plenty of excuses for downing a few drams of the strong stuff. With the true origins of Halloween shrouded somewhat in mystery, some arguing for roots in Roman traditions like Parentalia while others aim for Celtic and Scottish folklore and beliefs, it leaves things even more open for creative interpretation. But all agree that, since there was more than a little drinking going on at these pre-Halloween parties, we can continue the tradition in modern times.
Add in the current obsession with horror movies, monsters of myth and a good scare here and there, it's a recipe for mixologist inspiration. Besides, if you're going to get devoured by a creature from your worst nightmares, you might as well have a few drinks in you before in happens.
Here are a few drinks to mix up and help make the evening scary good.
Behind the Pumpkin Patch – For those looking for the sexier side of Halloween, it's hard to beat a combo of bourbon and pumpkin. The smooth caramel of the bourbon matches up with the sweet musky pumpkin and cinnamon spice to deliver a warming sensation that screams for a trip out past the pumpkin patch with the sexy cat suited young thing (or sexy fireman) of your choice. Just keep in mind that the couples who disappear from the group for extracurricular activities tend to be the first the implacable evil creature catches up with.
Here's how you do it:
2 oz. bourbon (Bulleit has just the right amount of sweet spice to balance the rich pumpkin)
1 tbsp. pumpkin puree
.5 oz. orange juice
1 dash allspice liqueur (St. Elizabeth's offers up a hefty dose of pumpkin pie spice without being overwhelming)
1 oz. dark rum (The Lash brings heavy molasses flavors to the table to add to the richness)
Add all the ingredients to a shaker full of ice and shake hard to incorporate the pumpkin. Strain into a cocktail glass and hope it brings a little heat to a chilly Halloween.
The Brain Hemorrhage – Halloween has more than its share of gore and gross outs, so why wouldn't that be reflected in a shot glass? The Brain Hemorrhage looks vile, with what looks like floating brain matter suspended in a sea of bloody liquid. In reality, it's a peaches and cream shooter that only looks deadly. With Bailey's, peach schnapps and a touch of grenadine in the mix, it's almost too bad these rarely get mixed up much at other times of the year.
Here's how you do it:
3/4 oz. peach schnapps
1-2 tbsp. of Baileys
1 tsp of grenadine
Pour the schapps into the shot glass and top gently with the Bailey's. The cream liqueur should float grotesquely at the top of the glass, hanging eerily like disembodied brain matter. Drop the grenadine in, which should drift to the bottom, completing the picture and working better than peeled grape "eyeballs" ever could at grossing people out.
Bloody Cider Punch – Few things spark conversation and keep a Halloween party going like a bowl of punch. Combining the flavors of Fall into a tasty and powerful brew that glows a rich bloody crimson, this sweetly strong and tart mix delivers a mouth-puckering spicy mix that's dramatically different from the typical punch combo of ginger ale, sherbet and cheap booze. The balanced flavors are addictive, keeping guests coming back for more, and making it a whole lot more interesting to kick back with friends and hand out candy to trick or treaters.
Here's how you do it:
2 cups brandy (OG "Original Gangster" Brandy mixes well with the cider and the price is definitely right at only $25 a bottle)
1/2 cup black currant cordial or schnapps
1/8 cup superfine sugar
4 cups apple cider (preferably unfiltered)
1 1/2 cups ice cold seltzer
Pour all the ingredients into a punch bowl at room temperature and stir well until all the sugar is dissolved. Refrigerate until ice cold and then, for the ultimate Halloween punch, add a block of dry ice to get the eerie fog effect no Halloween party is complete without.