Salt & Straw ice cream shops are now making new flavors with food 'waste'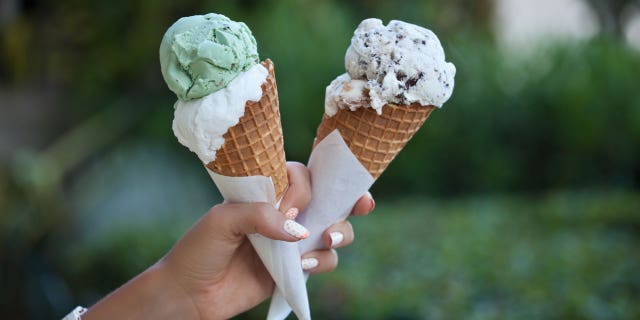 NEWYou can now listen to Fox News articles!
The Salt & Straw Ice Cream shops are adding a new spin on the way they produce their ice cream: They're using food waste to create to the five new flavors for their shops in San Francisco, Los Angeles, and Portland, Ore.
Salt & Straw will be receiving the food waste from local non-profit organizations like Urban Gleaners, Food Forward and Food Runners, reports Self magazine. These organizations are originally given leftover food from restaurants, breweries and bakeries to combat hunger in their local areas, but these food wastes are not the scraps that are thrown out after already being used — rather, the "waste" consists of perfectly edible leftovers that breweries and food vendors would otherwise be sending to landfills.
YUENGLING CREATES 'BUTTERBEER' ICE CREAM FOR HARRY POTTER FANS
Salt & Straw then takes these leftover ingredients, and uses them to put a unique on their new "June Rescued Food Series" of ice creams.
Tyler Malek, one of Salt & Straws co-founders, says he originally created the June Rescued Food Series to spark a change among restauranteurs and food vendors.
"The fact that we waste 40 percent of our food in the United States while there are families and children not getting the food they need is a horrific reality and something that all of us in the food industry need to focus on changing," said Malek in a statement obtained by Self.
"This ice cream menu is our little soapbox to talk about this issue and start showing create ways to combat this problem."
According to Los Angeles Magazine, there will be five new flavors, in total, that all of Salt & Straw's locations will be selling throughout the month of June, some of which include: Roxie Road, using leftover popcorn from the Roxie theater in San Francisco; Ancient Hertiage's Lemon Curd Whey, made with cheese byproducts from the Ancient Heritage cheese shop in Portland; and Breakside Brewery's Spent Grains & Bacon S'mores, made with spent grains from the nearby brewery.
FOLLOW US ON FACEBOOK FOR MORE FOX LIFESTYLE NEWS
A portion of the profits from the June Rescued Food Series will also go to the same non-profit organizations that helped Salt & Straw create these tasty flavors.
Salt & Straw's new flavors will be available throughout the month of June.