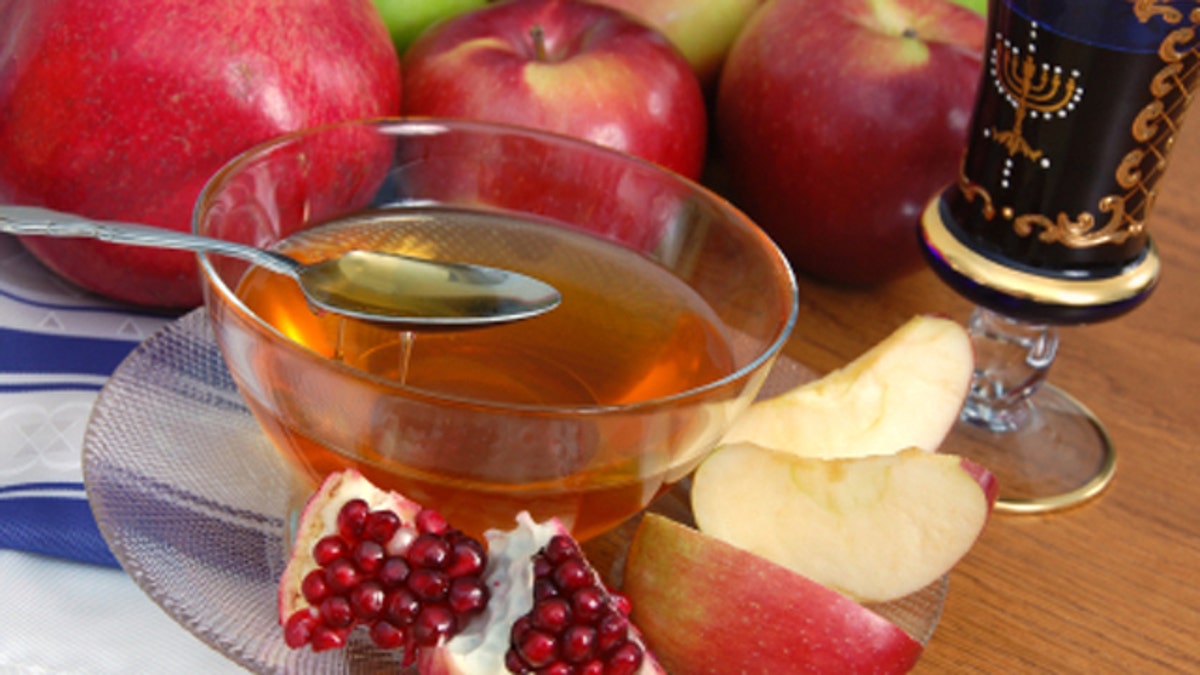 Rosh Hashana is the Jewish new year. Literally translating to head of the year, there's not a whole lot of similarity between this start of the Jewish calendar year and the one that takes place on January 1. Despite being a joyous holiday, Rosh Hashana is a time for reflection, a time to look over the missteps of the past year and plan how to avoid them in the new one.
Of course, no one ever said you can't drink something other than Manischewitz whilst making those plans. After all, such deep thoughts are sure to work up a powerful thirst and man cannot live, nor wish for a sweet new year, on kosher wine alone. A few simple cocktails geared toward encouraging the requisite introspection, not to mention encourage shouts of "L'shanah tovah," -- Hebrew for "for a good year!" -- as glasses clink together certainly wouldn't hurt.
To that end, here are a few drinks aimed at ringing in the Jewish new year in grand, yet traditional, fashion that even the strictest bubbie couldn't possibly frown upon.
Call of the Shofar – When Rosh Hashana falls upon a day other than the Sabbath -- or Shabbat -- the shofar, a ram's horn blown like a trumpet, is sounded. There isn't a specific reason given for this in the Old Testament, but some suggest it's a call to repentance. In any case, it's one of the most important observances of the holiday. A skilled shofar blower can produce one hell of a note – a sound only a powerful drink can do justice to. The Call of the Shofar is a twist on a classic, the Whispers of the Frost. It's sweet, in keeping with the hopes for a great new year, but packs a wallop and demands the drinker's attention.
1 1/2 oz. whiskey (Oddly enough, Jameson Irish Whiskey provides a great combo of caramel flavors with a solid oak base to offset the sweetness)
1 1/2 oz. sherry
1 1/2 oz. Manischewitz Concord Grape kosher wine
Pour all the ingredients into a wine goblet full of ice, stir and garnish with a few apple slices. Deep thoughts will soon ensue.
L'Shanah Tovah – The pomegranate carries a rich history of symbolism. In Judaism, the fruit signifies righteousness, and is often eaten in dishes on Rosh Hashana as a way of inviting those qualities into the coming year. As such, incorporating pomegranate into a cocktail that invites a good year and emulates the traditional holiday greeting can only be a good thing. Sweet and tart, with all the mouth-puckering qualities of the pomegranate balanced by the richness of the cognac and effervescence of the tonic water, this is a drink that provides all of the joy the holiday calls for, tempered by just the right amount of righteous inspiration.
1 oz. Pama pomegranate liqueur
1 oz. cognac (Jacque Cardin Cognac is a nice match to the tart pomegranate, offering solid complexity and sweetness that cuts the "pucker")
1.5 oz. tonic water
Combine the ingredients in a mixing glass full of ice and stir gently to avoid losing too much carbonation. Strain into a cocktail glass and serve it up to guests eager to avoid a second night of Manischewitz.
The Rosh Hashana – One of the best parts of any holiday is the food. And Rosh Hashana has become known for the traditional pairing of apples and honey as a symbol of hope for a sweet new year. This drink takes that pairing and ups the sophistication, balancing the sweetness while maintaining the honey and apple flavors. And what could be sweeter than kicking the new year off with bourbon?
1.5 oz. bourbon (Jim Beam Black is perfect here – not so expensive it's wasted by mixing, but still with great caramel-coated bourbon flavor that pairs perfectly with the apple and honey)
1 oz. Barenjager Honey Liqueur
Apple cider (preferably unfiltered and unpasteurized – giving the whole drink a little more complexity and tangy flavor)
Pour the bourbon and liqueur into a lowball glass over ice and top off with the apple cider. Give it a stir, kick back, and reflect on what's sure to be an awesome new year. And if you don't believe that yet, go back for another round or two.