Rocks or not? Breaking Bad-inspired 'meth' candy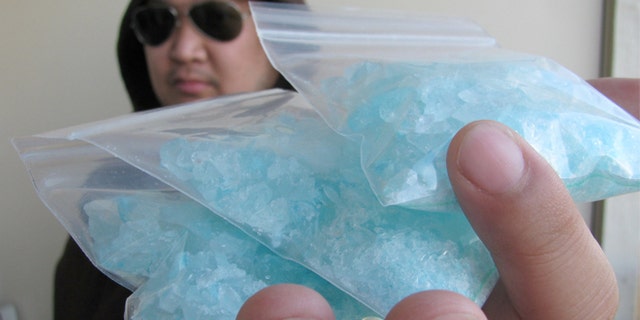 For all of you that are obsessed with "Breaking Bad," here's something to munch on while getting your fix of AMC's hit TV show.
Heisenberg's Blue Glass is cotton candy flavored blue rock candy, but looks pretty close to the blue glass meth from the show, and even comes in a biodegradable 4" X 3" bag.
After all, you may need a batch of the blue stuff to get through all the twists and turns while watching Mike and Walt cook up trouble in their new mobile meth lab.
Some may feel a little uncomfortable that old-fashioned rock candy has been smashed up and is being sold as a fake-drug. That's clearly part of attraction.
LosPulgasHermanos's Danila Buendia, dressed in a hoodie and dark glasses, sells his creation on Etsy. But he's got competitors. Dryden & Palmer make its own batch called Blue Raspberry Rock Candy Crystals, and sells the candy in 1 lbs. bags.
But if you're feeling like trying a little chemistry at home, you can cook up a batch of your own blue baggie yourself.
The blog Sugarhero shows us how it's done. Luckily for those kitchen novices, it's easy as boiling water (and sugar). The only special device you need is a candy thermometer.
She notes that to get the complete "crystal meth" experience, take a rolling pin and smash the rock candy into small pieces in a zip-top bag. No snorting please, this candy is only the sweet, edible kind that rots your teeth, not your brain.
So what do you think of meth-inspired candy? Does it rock, or not?