Rob Lowe is hawking chicken as KFC's newest Colonel Sanders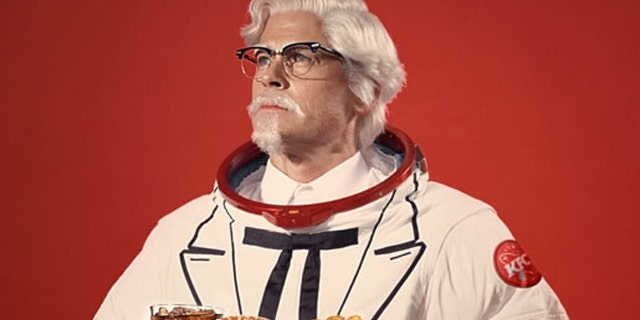 NEWYou can now listen to Fox News articles!
KFC has announced the newest celebrity to play the company's founder Colonel Harland Sanders.
And he's pretty dreamy, even with white hair.
Actor Rob Lowe will appear in advertisements wearing a spacesuit to "make the world-famous Zinger literally out of this world" the chicken chain announced Friday.
"My grandfather was the head of the Ohio chapter of the National Restaurant Association in the 1960s and took me to meet Colonel Harland Sanders when I was a kid," Lowe said in a statement.
"It was a big deal. I thought this would be a nice homage to both Colonel Sanders and to my grandfather."
FOLLOW US ON FACEBOOK FOR MORE FOX LIFESTYLE NEWS
The Louisville-based fast food restaurant, a subsidiary of Yum! Brands (the parent company Taco Bell and Pizza Hut), has more than 20,000 outlets in over 120 countries worldwide. The chain was founded in 1930.
Lowe joins an ever-growing list of comedians and actors to play the famous Colonel.
Henderson Forsythe – In 1994, actor Henderson Forsythe played the role of Colonel Sanders in several television commercials for the brand.
Randy Quaid – Randy Quaid was tapped to be the voice of an animated version of the Colonel in TV spots in 1999.
Darrell Hammond – The "Saturday Night Live" alum played the role of Colonel in 2015, the first time an actor played the face of the chicken chain's famous founder in nearly two decades.
Norm Macdonald – Comedian Norm Macdonald also played the role of the colonel in 2015.
Jim Gaffigan – This comedian made his debut as Colonel Sanders during the 2016 Super Bowl in a 30-second commercial called "Dream." A self-proclaimed food lover, Gaffigan introduced the sweet and spicy Nashville Hot Chicken sandwich.
George Hamilton – Legendary actor George Hamilton starred in advertising campaigns playing the colonel to promote its Extra Crispy Chicken in 2016. Famously tan, Hamilton also hawked the brand's first ever chicken-flavored sunscreen.
Rob Riggle – This actor and comedian is a real life retired Lieutenant Colonel who served in the U.S. Marine Corps Reserve. Riggle appeared as Colonel sanders to advertise KFC's $20 Fill Ups last year.
Vincent Kartheiser – This "Mad Men" star played the role of the "heartthrob Nashville Hot Colonel" in October 2016 to promote the chicken tender version of the spicy sandwich.
Billy Zane – The actor best known as the villainous Cal Hockley in 1997's "Titanic" played the role of the iconic Colonel Sanders in recent 2017 campaigns for KFC's Georgia Gold Honey Mustard chicken.
The Zinger sandwich, which has previously only been available at international KFC locations, will make its U.S. debut April 24.