Rhode Island police shut down kids' lemonade stand, citing city ordinance concerning commercial vendors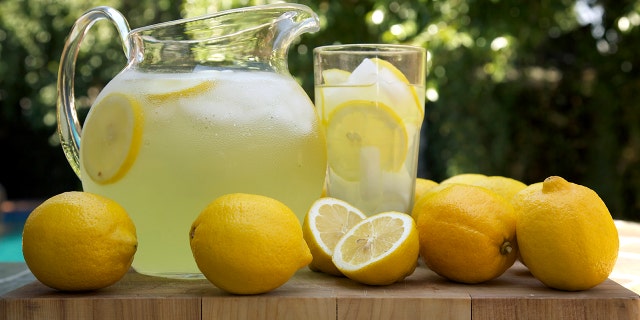 A lemonade stand in Rhode Island was shut down by local officials for violating a city ordinance, but the children running it are hoping to change the law.
The stand, run by two kids on the Cliff Walk in Newport, was shut down on Sunday.
In a video posted to Facebook by Newport Buzz, a police officer is seen telling the kids and a few adults that the city passed the rule in order to keep the popular tourist spot free from commercial vendors.
BEAR STEALS PIZZA FROM TENNESSEE RESTAURANT CUSTOMERS DINING ON PATIO
The kids reportedly weren't charging for the lemonade, just accepting donations, but the law still states they're not allowed to set up along the walkway.
The Cliff Walk Commission, which maintains the city's Cliff Walk, drafted the ordinance last year prohibiting people from offering goods, and it was later passed by City Council, The Newport Daily News reports.
Section 5.56.010 (b) in the city's ordinances states that "...no person shall offer for sale any goods, wares, merchandise, foodstuffs or other articles or substances for sale on the Cliff Walk, either hand-carried, from any vehicle, cart, basket, cooler or other display or carrying device. For the purposes of this section only, a sale shall not only include the transfer of such items for a price but the transfer of such items for a donation, tip or gratuity with the intent of such transfer being the transfer of such items for the payment of financial consideration," according to the Daily News.
"We're trying to keep [the Cliff Walk] commercial-free," Janaros said. "We're trying to keep it nice," referring to the risk of litter from any vendors.
Lt. Frank Rosa says his department isn't "hunting lemonade stands," but the officer shut it down as part of a proactive approach to ordinance violations.
FOLLOW US ON FACEBOOK FOR MORE FOX LIFESTYLE NEWS
The two kids busted for selling their lemonade had a meeting with Newport's Mayor Henry Winthrop to discuss possible solutions allowing for non-commercial lemonade stands, according to Newport Buzz.
"After a very fruitful conversation, Mayor Winthrop invited them to present their ideas to the Cliff Walk Commission on September 28th. Such a great civics lesson for these kids!" Newport Buzz wrote in a social media post.
The Associated Press contributed to this report.