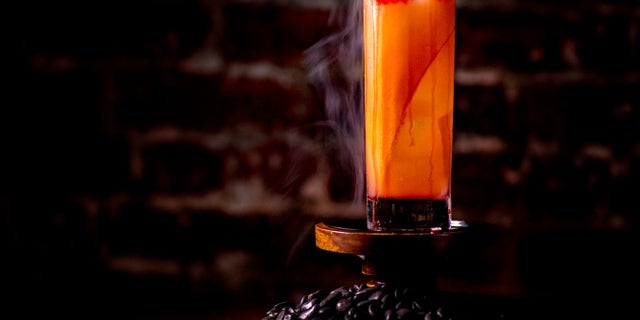 NEWYou can now listen to Fox News articles!
Inspired by the creatures of Game of Thrones, the Rhaegal's Revenge is a dragon of a cocktail. Complete with smoke and a snake-like garnish, it's perfect to enjoy while watching the finale of one of the world's favorite shows (or bingeing once it's over).
Cook Time:
Prep Time:6 min
Total Time:6 min
Servings: 1
Ingredients:
2 oz Patrón Reposado
3 oz Grapefruit Juice
1 oz Fresh Lime Juice
1 oz Smoked Hibiscus Syrup
5 dashes of Peychaud Bitters
5 dashes of Angostura Bitters
Ginger beer to fill
Pinch of Salt
Grapefruit peel as garnish
Preparation:
Add grapefruit, lime, salt and Patrón into shaker.
Add with ice and shake for 5 seconds.
Strain into a Collins glass and fill with ginger beer.
Pour Hibiscus Syrup on top and dash Bitters as well.
Snake Grapefruit peel inside glass.