Restaurant worker wards off knife-wielding robber with soup ladle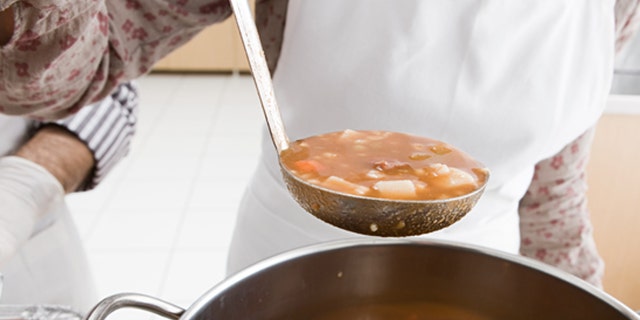 NEWYou can now listen to Fox News articles!
Forget the pen. Is the spoon mightier than the sword?
A worker at a Chinese restaurant in New York City was able to thwart a knife-wielding intruder with a decidedly less intimating weapon--- a soup ladle.
Released Thursday, security footage from the Jan. 4 incident at Chen's Garden in Brooklyn, New York reveals a person in a black mask and an orange hoodie entering the restaurant and then quickly brandishing a long knife from his sleeve.
The suspect attempts to jump over the counter but is stopped as two kitchen employees start waving kitchen utensils at the intruder, including a large soup ladle, at the attacker, keeping him at bay. One quick-thinking worker is seen grabbing a stool and starts to wave it at the attacker who quickly runs out of the store.
According to the NYPD, the suspect seen in the tape was "last seen wearing a black mask, an orange hooded sweater, light colored jeans and orange work boots." According to Gothamist, he is also now wanted in connection with several other robberies that occurred in the neighborhood including a robbery of a Baskin Robbins and a Dunkin Donuts.
FOR THE LATEST FOOD FEATURES FOLLOW FOX LIFESTYLE ON FACEBOOK
Police also believe this same individual threatened a KFC/Taco Bell employee on Dec. 29. And made off with $876 in cash from the register.
Anyone with information on the suspect has been asked to contact the NYPD's Crime Stoppers hotline.