Restaurant in Lebanon gives discount to diners who leave cell phones at the door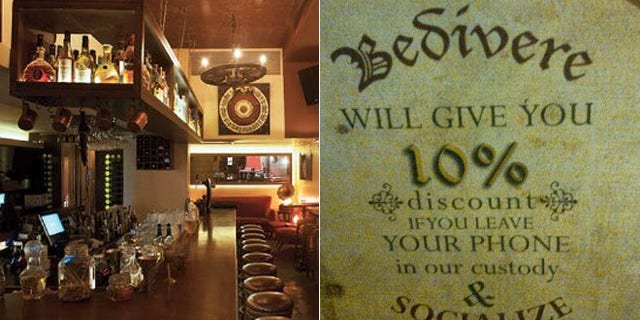 Bedivere Eatery & Tavern wants people to socialize, not talk on the phone, when sharing a meal.
According to a Reddit post, the restaurant in Beirut, Lebanon said it would give 10 percent off the bill to customers willing to surrender their cell phones during their meal. To ensure diners aren't secretly texting under the table, Bedivere requires that anyone seeking the discount turn their phone over to staff before sitting down.
"Bedivere will give you 10% discount if you leave your phone in our custody & socialize," reads a sign that went viral last week.
The tavern has taken to Facebook to invite locals and tourists to "come get extra social with your friends at Bedivere."
Bedivere isn't the first eatery to give customers an incentive to ditch their phones while eating. Last year, Los Angeles' Eva Restaurant made headlines for giving a 5 percent discount to customers willing to leave their cell phones with staff when they were seated. A Vermont deli took on the no-phone fight by telling customers that $3 would be added to the bill if they used a phone at the counter.