'Restaurant Impossible's' Robert Irvine announces plans for Pentagon restaurant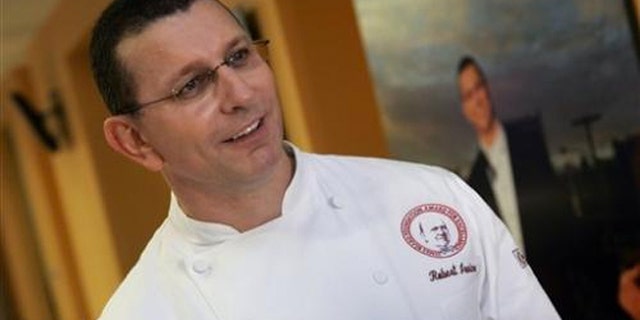 It looks like celebrity chef Robert Irvine — host of Food Network's Restaurant: Impossible — is opening a new restaurant in the Pentagon.
The tough-talking former Royal Navy chef who helps struggling restaurant owners tweeted out the announcement for his new eatery Monday.
"On the road again headed to DC this morning for meetings.we are opening a restaurant in the Pentagon yea awesome.. Have a great day folks," he tweeted.
When asked about it at a Pentagon press briefing on Tuesday, Department of Defense spokesman Rear Adm. John Kirby said that he wasn't aware of the move, but was happy to hear about another lunch possibilities.
"As a guy who spends 12 to 14 hours a day here, I would welcome a new place to eat," he said.
The Pentagon has several food courts featuring mainly fast-food options such Popeyes Louisiana Kitchen, Burger King, McDonald's and Dunkin Donuts. There are also dining halls for each branch of the military, but those are open only for higher ranking officials.
There are no details about the style of Irvine's eatery and what kind of food will be served. The Pentagon's formal sit-down restaurant shut its doors earlier this year and the space remains empty.
When told about Irvine's show, where he does a complete restaurant makeover, changing everything from the menu to the decor, all in two days and for $10,000, Kirby said: "Then I'm sure we could use his assistance here. He'll fit right in."