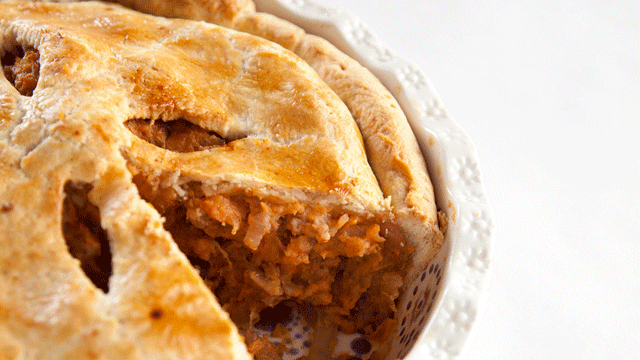 Way Better Than Basic Pie Dough
• Leaf lard, butter, vanilla sugar yields enough for 1 double-crust pie
• 2½ cups all-purpose flour
• ½ teaspoon kosher salt
• 1 tablespoon Vanilla Sugar (recipe follows)
• 12 tablespoons cold unsalted butter, cubed
• ¼ cup cold rendered leaf lard (page 170) or vegetable shortening
• ¼ to ½ cup ice water
In a large mixing bowl, whisk together the flour, salt, and Vanilla Sugar.
Using two forks or a pastry blender, cut in the butter and lard, making sure to leave some chunks of butter the size of peas. Stir the ice water into the flour mixture until a ball has formed.
Work quickly and do not overmix. Form the mixture into two equal-sized disks. Cover with plastic wrap and chill in the refrigerator for 2 hours. The dough will be a little crumbly.
The dough can be refrigerated for up to 2 days or frozen for up to 3 months.
Vanilla Sugar - yields 2 cups
• 1 organic vanilla bean
• 2 cups sugar
Using a sharp paring knife, cut a slit down the side of the organic vanilla bean, remove the seeds, and place them, along with the bean, in a 1-quart jar with a lid. Fill the jar with the sugar.
Screw on the lid and give it a good shake.
Let the sugar sit in a cool pantry for 2 weeks to attain peak flavor before using (although I've been known to use it after just 2 days).
Keep adding more sugar to the jar as you use it.
One vanilla bean will last through three jars of sugar.
Lard
• 5 pounds pork leaf fat, chopped
• Dutch oven
• Wooden spoon, fine mesh strainer
• 2 (1-quart) clean canning jars, bands, and lids
Roughly chop the fat.
Heat a Dutch oven over medium-low heat. Add the fat and 1 cup water.
Cook, stirring every 15 minutes with a wooden spoon, for 1 hour, or until the fat begins to melt.
When the fat melts further, you'll hear a few loud pops. This is the last of the air and moisture leaving what will soon be the cracklings (fried pieces of pork, typically a thick layer of fat and small bits of meat). When you hear these pops, begin stirring more frequently for the next 15 minutes.
Strain and remove the cracklings that float to the surface.
When the remaining cracklings sink to the bottom of the pan, the lard has been fully rendered and the liquid will be yellow. Remove from the heat and let the lard cool slightly.
Pour the lard through a fine strainer into sterilized canning jars. Save the cracklings left in the bottom of the pan for a snack!
Refrigerate the jar of lard overnight, uncovered. The lard will solidify and turn white.
Replace the lid, cover tightly, and store the lard in the refrigerator for up to 4 months or in the freezer for 1 year
Excerpted from Libbie Summers's The Whole Hog Cookbook (Rizzoli).