Recipe: Raspberry Streusel Muffins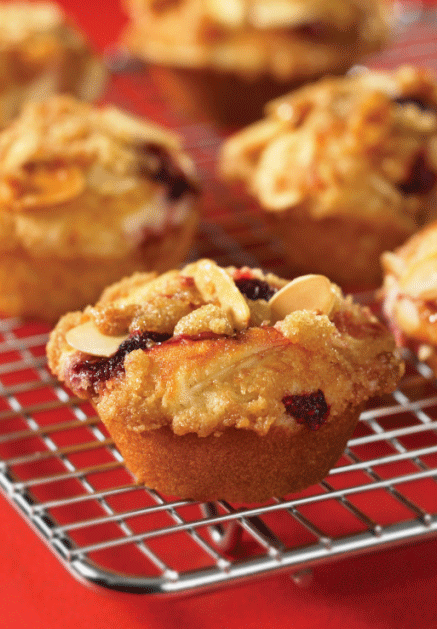 Raspberry Streusel Muffins
Makes 22 to 24 muffins
Roxanne's friend Sue Monaghan shared this recipe with us, and we are so appreciative! Prepare these using either fresh or frozen raspberries. They are a nice change of pace from blueberry.
Tips
Fresh raspberries freeze very well. Wash them gently so that they maintain their delicate shape, then pat dry with a paper towel. Arrange them in a single layer on a baking sheet and place in the freezer. Once frozen, transfer the berries to a freezer bag, seal and date the bag. Return them to the freezer, where they will keep for up to 1 year. There's no need to thaw frozen raspberries before stirring them into the batter. Store leftover muffins in an airtight container and plan to serve within a day or two. Or store in the freezer for up to 3 months. Paper liners (optional).
Muffins
11⁄2 cups all-purpose flour 375 mL
3⁄4 cup granulated sugar 175 mL
2 tsp baking powder 10 mL
1 egg
1 1⁄2 cup milk 125 mL
1⁄3 cup butter, melted 75 mL
1 cup fresh or frozen raspberries 250 mL
Topping
1⁄4 cup packed brown sugar 60 mL
1 tbsp all-purpose flour 15 mL
1⁄4 cup sliced almonds 60 mL
1 tbsp butter, melted 15 mL
1. Muffins: In a large bowl, whisk together flour, sugar and baking powder. Set aside.
2. In a medium bowl, whisk together egg, milk and butter. Stir into flour mixture until just blended. Gently stir in raspberries.
3. Topping: In a small bowl, combine brown sugar, flour, almonds and butter.
4. If desired, place paper liners in wells. Fill each well with about 11⁄2 tbsp (22 mL) batter. Sprinkle about 1 tsp (5 mL) topping over the batter in each well. Bake for 5 to 7 minutes or until a tester inserted in the center of a muffin comes out clean. Transfer muffins to a wire rack to cool. Repeat with the remaining batter and topping.
Excerpted from 175 BEST BABYCAKES® CUPCAKE MAKER RECIPES by Kathy Moore & Roxanne Wyss © 2011 Robert Rose Inc. www.robertrose.ca Reprinted with permission. All rights reserved.