Recipe: Herby The Love Omelet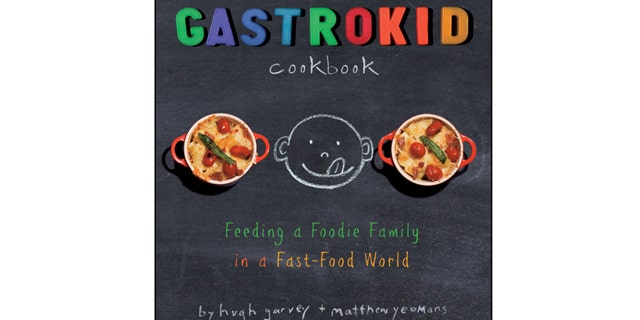 (Excerpted from Gastro Kid by Hugh Garvey and Matthew Yeomans)
The lame B-movie reference will likely annoy and confound your children, but it does state what this omelet is all about: packing major flavor and nutrients into an omelet big enough for four to share. It's got the fresh herb thing, which must have a vitamin or two in it. It's got the classic tangy cheesy thing, which for some reason kids love. And it's got the egg thing, which is, well, cheap and easy. It's a classic midweek, oops-we-ran-out-of-ingredients dinner or weekend brunch (goat cheese and fresh herbs are things we keep on hand and replenish weekly; it's shocking how long flat-leaf parsley stays fresh in the crisper drawer). Serve with a chopped cherry tomato salad. Makes 4 Servings.
Several stalks asparagus
6 large eggs
Olive oil
1⁄2 cup crumbled goat cheese
2 cups chopped fresh parsley
and basil leaves
Salt
Freshly ground black pepper
In a medium skillet over medium heat, add the asparagus and 1⁄2 cup water and simmer, covered, for 5 minutes or until the asparagus is tender. Drain the asparagus, chop into 1⁄2-inch pieces, and set aside.
Whisk up the eggs. Heat several tablespoons olive oil in a 10- or 12-inch nonstick skillet over medium heat. Pour in the eggs and cook for a couple of minutes, until the bottom sets. With a spatula, pull the far edge of the cooked egg mixture toward you while tilting the pan away from you, letting the uncooked egg mixture cover the pan. When this sets, do the same thing again. Then do it again. When the final layer is cooked through, place the goat cheese in a line down the center. Add the asparagus pieces, herbs, salt, and pepper. Using a spatula, and maybe a fork for assistance, roll it up. Let the cheese melt a bit. Slide onto a plate and cut into 4 pieces.