Pyrex tattoos are latest foodie trend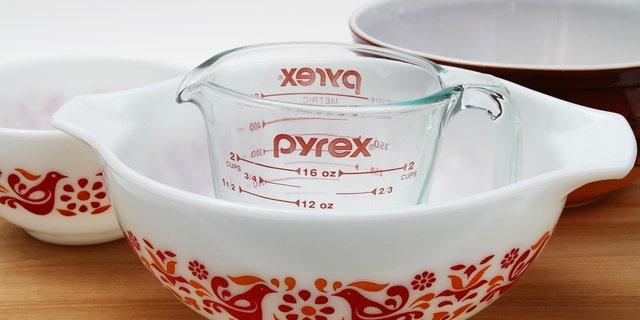 NEWYou can now listen to Fox News articles!
Proving that everything old is new again, Pyrex tattoos are now the latest ink trend for kitchen lovers and foodies. The classic cookware brand, maker of everything from mixing bowls to sturdy food storage containers, is known for its iconic patterns, which some vintage cookware fans have chosen to get permanently inked onto their skin.
Corning Glass Works released its first Pyrex products in 1915, and in the 103 years since, generations of families have used them for cooking and baking. Now Pyrex's signature designs have taken on a new life as many tattoo fans have chosen to celebrate them in a very personal way.
Becky Matheson, 36, a tattoo artist in Halifax, Nova Scotia, and owner of Wanderlust Tattoo Halifax, got a tattoo of a hen sitting in a Pyrex teacup three years ago from Alicia of Rolling Sea Tattooery. She chose the design because it reminded her of her grandparents. Matheson told The Daily Meal that she thinks nostalgia "is a huge reason Pyrex is so popular again."
Matheson even has Pyrex and other vintage items displayed in her tattoo studio. "People always say, 'My grandparents had those mugs!'" she told us.
For Tairyn Phillips, 33, of, Albany, New York, who's been collecting Pyrex for 10 years and owns 25 to 30 pieces, it was a natural fit for tattoo art. She got tattooed recently by Josh Doyon at Vixen and Viking Tattoo Studio, with an armband interpretation of the Pyrex Woodland pattern.
For Phillips, Pyrex is also all in the family. She received her first Pyrex cookware, a mixing bowl, from her grandmother. "I was just starting to get into vintage collecting and learning how to check for markings and manufacturers," she told us. "In my head, Pyrex was that giant, clear glass measuring cup my mom always used when we were baking cookies when I was a kid."
Some have gotten tattoos that are pretty much an exact match of a Pyrex image, such as the popular red and orange "Friendship" design.
Drummer Casey Joe Coomer got a set of five pink and blue Gooseberry Pyrex dishes tattooed for his wife.
Another Instagram user in Richmond, Virginia, got inked with a mixing bowl full of pie that looks like it's fresh out of the oven.
It's no surprise that these old-school patterns are so popular. Pyrex has attracted a cult following, with blogs dedicated to tracking the brand's patterns and promotions, and Facebook groups with names like "Pyrex Passion" and "Pyrex Addicts Anonymous" feature thousands of members. And while some may think a tattoo dedicated to glassware is silly, at least folks aren't getting ink of these outrageous kitchen gadgets.