Propelling Ground Meat to Presidental Status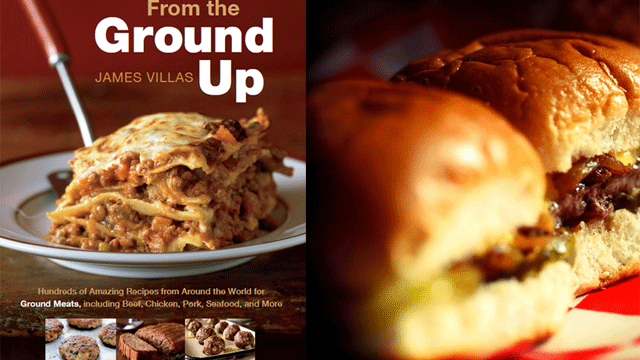 Nancy Reagan adored designer Bill Blass' meatloaf, which she ate at New York City's legendary high-society mecca, Mortimer's. That it was the creation of Blass had everything to do with it because back then meatloaf was a Blue Plate Special at "family restaurants." It was too ordinary, too common for any serious restaurant to consider.
But even way back when, the people who knew, knew that meatloaf was more than meat for the masses.
In 1963 food authority Craig Claiborne wrote: "It may be inconceivable to the vast majority of the nation's beef eaters, but there are countless people of reasonable mind who willingly choose a lean portion of ground meat to a whole Porterhouse." Because, he said there was almost no herb or spice that "would not marry handsomely with a meritorious meatloaf."
Cookbook author and writer James Villas picks up where Claiborne left off. His ode to ground beef, pork, poultry and seafood, From the Ground Up: Hundreds of Amazing Recipes from Around the World for Ground Meats (Wiley) is like Hamburger Helper for serious cooks.
Propelling ground meat to its proper station in the food world is a lifelong passion; he was one of the people who urged Bernbaum to serve meatloaf at Mortimer's. Ground meat belongs in the pantheon of fine meat, Villas argues. People think of ground meat as only hamburger, sausage or meatloaf, he sighs. They forget, he says, the glory days of Salisbury Steak.
We've destroyed some very good ground meat dishes like Salisbury Steak, says Villas. We "ruined" it with "gloppy canned soup," abused it with "that glop, with bouillon cubes, with the wrong cuts of meat." Real Salisbury Steak is not the stuff made by school lunch ladies. It's the stuff of ladies-who-lunch.
Villas' version, ground round with beef broth, bacon, Worcestershire sauce, onion and shiitake mushrooms transforms Salisbury Steak into the elegant dish it once was. It's like fading movie star with a fabulous face-lift.
Villas' book is a global ground meat exploration: French Rillettes; Lake Superior Mincemeat; Italian Crostini; Scandinavian Meatballs; Cornish Pasties; Greek Pastitsio; English Farmhouse Bangers; a smattering of international chili recipes; Mexican Montezuma Pie; Shanghai Lion's Head; and Southern Beef Pot Pie with Cheese Biscuit Crust.
Some recipes appeal more to foodies and the merely curious, like Scottish Deviled Kidney Spread—use veal or lamb kidneys rather that "more robust beef or pork kidneys"—and Scandinavian Jellied Veal Loaf, "chill overnight till firm."
Others are crowd-pleasers like Bacon and Blue Cheese Dip, "so good that I could almost make a sandwich with it" and Retro Rice and Tuna Casserole. "I stand solidly behind the integrity" he writes of this brown rice, green peas, tuna and pimentos recipes flavored with, yes, Campbell's Cream of Mushroom soup.
Villas' egalitarian approach means he's as equally at home in high-society eateries as in dives, eating handcrafted charcuterie or sipping canned soups.
He recommends grinding your own meat, easy with a heavy-duty blender or a mixer with a grinder attachment. Custom-grinding is addictive; my Mom's been doing it for sixty-plus years and shows no sign of stopping. Villas recommends chuck and round for good burgers and 100% sirloin for great, albeit, pricey ones. Grinding lets you, not the slaughterhouse, control what goes into your meat.
His Sherry Turkey Hash Cake combines ground turkey with onion, pepper, celery, potatoes, sherry and cream to solve post-holiday turkey blues. Form into cakes, dust with flour, dip in egg, roll in breadcrumbs and fry in a skillet.
Croquettes, says Villas, give new life any poultry or ham leftovers. Forget their rep as grease-laden bricks. Undeserved, he says. They lend themselves to and "endless" array of flavorings and techniques, he says, hoping to spark a croquette renaissance. Shallow-frying in three to four inches of oil and butter keeps them light. "Never," he thunders, "inundate the croquette in liquid fat," i.e. deep-fry.
For Christmas he suggests making a veal and pork meatloaf and "wrapping the entire damn thing in bacon." Remove bacon to get a crust, crisp up the bacon and serve on the side. "It doesn't get any better or easier for the holidays," he says.
Villas tastily played out his previous passions in Pig: King of the Southern Table (Wiley) and The Bacon Cookbook (Wiley.) This book in many ways is a return to the hearty, needs-no-improvement pre-WWII American cooking that your grandmother used to make.
In Villas' hands ground meat is no longer the Rodney Dangerfield of the meat world.