Pop-Tarts is making two Dunkin Donuts coffee-infused flavors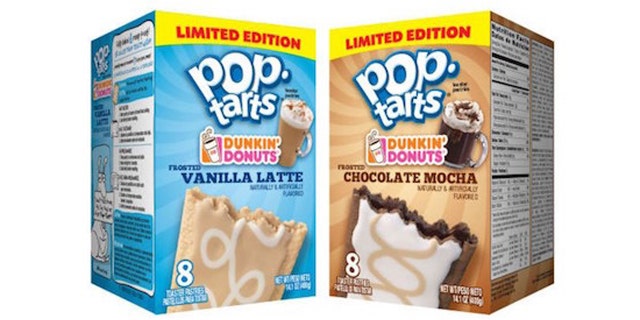 Cereal sales may be a bit soggy but Kellogg's has a new breakfast treat that may revive the morning meal.
This week, the company announced two new varieties of coffee-flavored Pop-Tarts.
According to Mashable, the new toaster pastries, inspired by Dunkin' Donuts coffee, are available in Frosted Chocolate Mocha and Frosted Vanilla Latte. The breakfast pastries are supposed to taste just like coffee beverages themselves.
But if you're looking to satisfy that a.m. caffeine fix, you'll still need to get your regular cup of joe as there's no jolt in these Pop-Tarts. They will be full of sugar, though, so they will deliver a different type of energy. Dunking them into a cup of actual coffee seems like a pretty tasty combo for the true coffee afficionado.
More from The Daily Meal
The History of the Kellogg's Breakfast Pastry Miracle: Pop-Tarts
Carl's Jr. Going National With Pop-Tart Ice Cream Sandwiches
'Portlandia' Promises Pop-Tarts, Brunch Etiquette
Mother Calls Cops on Son Over Pop-Tart Theft
The Dunkin Donuts Pop-Tarts will be available in grocery stores across the country starting this month and retail for $2.59 a box.
But the new flavors will only be available for a limited-time.