Pizza Hut unveils extra-large pizza sized cookie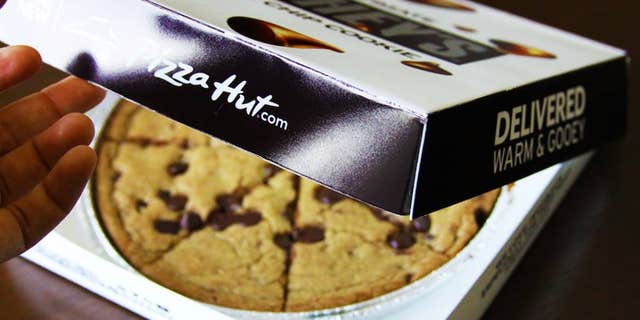 What's a better pizza topping than pepperoni? Try chocolate chips.
Today Pizza Hut begins a nationwide roll out of their giant, pizza sized cookie. A partnership with cocoa giant Hershey's, the new "Ultimate Hershey's Chocolate Chip Cookie" is more than just a giant dessert.
It's a communal experience, according to USA Today.
The cookie, which measures eight inches in diameter and comes pre-cut into eight wedge shaped slices, is an effort to give more customers what they want—which happens to be something sweet and sharable. Pizza Hut reported that 70 percent of customers wanted some sort of dessert with their pizza order.
"Millennials tell us it's what they want," Carrie Walsh, chief marketing officer at Pizza Hut, told USA Today. "They like to cap off a great pizza with a great dessert."
From cinnamon-sugar dipped Cinna Stix at Domino's to pizza-sized apple pie at Papa John's , pizza chains have been expanding their sweet offerings for years. Papa John's currently offers a similar extra-large chocolate chip cookie product. The highly coveted 18 to 34-year-old demo is also social, and a giant, communal cookie is an easy party snack.
The new Hershey cookie joins the chain's current lineup of sweets, which includes Cinnamon bread sticks, personal apple pies, and Hershey's chocolate-covered dunkers. The warm cookie retails for $5.99 by itself or $4.99 if purchased with a pizza.
Walsh told USA Today that Pizza Hut was considering a future dessert option that included Hershey's popular Reese's Pieces candy.