'Pioneer Woman' Ree Drummond always keeps this frozen dessert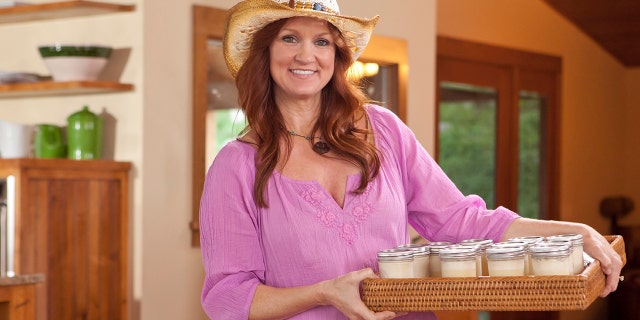 On hot summer days at her ranch in Pawhuska, Oklahoma, the Pioneer Woman knows the perfect way to cool off. And it involves A LOT of sugar!
Ree Drummond certainly has this mom thing down to a science. She has all sorts of tricks up her sleeve, and in her most recent episode on her show, The Pioneer Woman, her latest trick has us drooling all over our desks.
Summers at the ranch just got sweeter, because Ree loves to keep Donut Ice Cream Sandwiches in her freezer for a delectable snack. What better way to celebrate a hot summer day than chowing down on a delicious ice cream sandwich? Just thinking about it brings me back to days coming home from the beach, with sticky chocolaty-wafer hands and vanilla ice cream dribbled down my face.
But of course, Ree doesn't just buy her sandwiches from the freezer section (although those are quite delicious, as some of our editors can attest). Instead, she takes it to the next level and uses donuts for the sandwich.
With a scoop of ice cream in the center, Ree dips the sides of those sandwiches in rainbow sprinkles and drizzles the top with chocolate. We know, they sound decadent, and we're almost positive your day just got better because of it (or worse, depending on how hungry you are).
Ice cream sandwiches are so incredibly easy to make, it's actually kind of shocking. And you can get super creative with them! Ree may use donuts and sprinkles for the sandwich, but you could use a myriad of items to make the ice cream sandwich of your dreams.
But if you want to attempt the genius behind Ree's Donut Ice Cream Sandwich, you can do so by attempting our glazed doughnuts and vanilla ice cream recipes. And don't forget to melt chocolate for the drizzle on top!