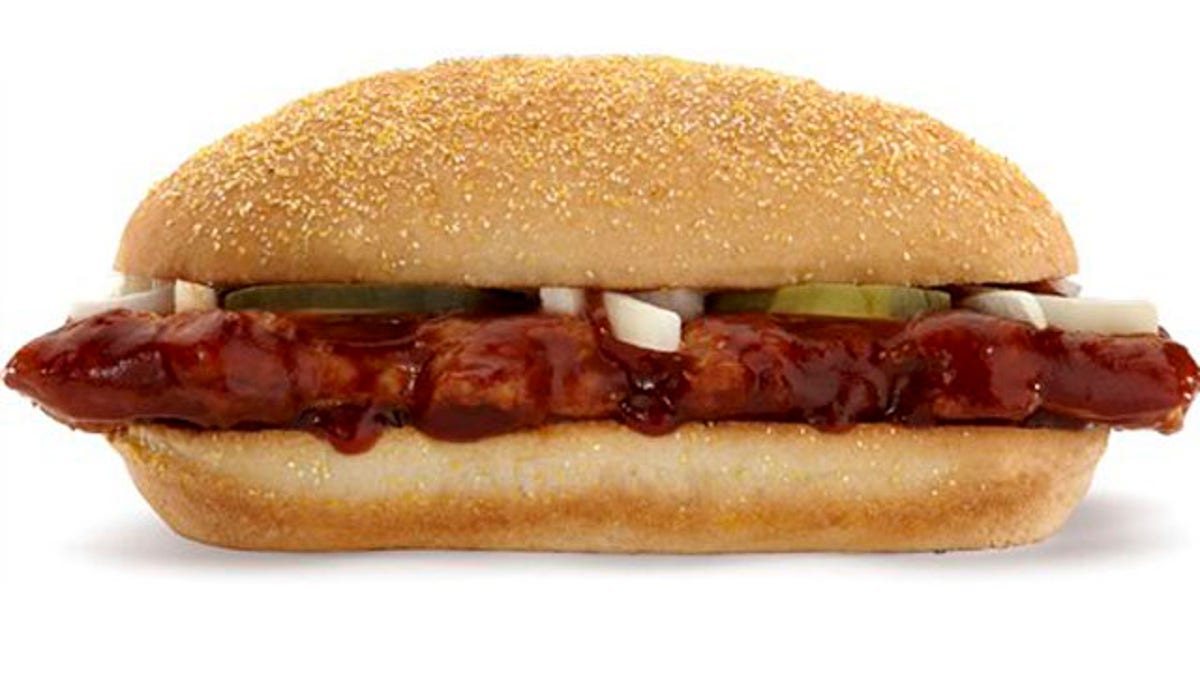 Dec. 17 marked the return of the McRib to McDonald's menus, and the Cook editors at The Daily Meal have a few bones to pick (literally) about this raved-about sandwich. While we've always been annoyed with the disappearing act (the sandwich is said to garner most of its popularity because of the fact that it's only available at the Golden Arches for a limited time each year), we're tired of everyone making a big fuss of something that's — brace yourself! — a lie.
Before everyone goes into hysterics, let us explain ourselves. The sandwich, which is a pork meat patty served with barbecue sauce and topped with onions and pickles, calls itself something it's not. Packing in a whopping 500 calories with 26 grams of fat and 980 milligrams of sodium, the "rib" sandwich isn't actually ribs at all. Made up of pork tripe, heart, and scalded stomach, the piece of meat served on the sandwich is processed down with water and sugar and then formed into the shape of ribs to give it a special appeal, when it's not actually ribs at all.
To be fair to the fast-food creation, we will say there are many who enjoy the McRib in all of its glory. Myron Mixon created his own version for his restaurant Pride and Joy, and Top Secret Recipe's Todd Wilbur, who provided a few tips to help us craft our recipe, claims that the McRib is hands down one of his favorite fast-food items. When he created his own version at home he stuck with the patty idea, but got a little bit closer to the truth by using actual sparerib meat. In addition to Wilbur, Dr. BBQ, aka Ray Lampe, is a huge fan of the McRib. While he hasn't attempted to make one at home yet, he appreciates the barbecue sandwich for being a work of art — barbecue art, that is.
"A true barbecue man enjoys the craft in all of its forms, even if it's served in a fast-food joint and looks like a little fake slab of ribs. Think of it as redneck molecular gastronomy and give me two with a large fry," Lampe told us.
With Wilbur's and Lampe's thoughts in mind, we set out to create our own McRib recipe —one that upholds the raved-about taste of the fast-food item and Lampe's sentiment of the craft of barbecue. Our recipe is not only an answer to our demand for truth, but we like to think of it as the tricked-out version, and we encourage you to make this sandwich not only when it's not available on the McDonald's menu, but when it is as well. For some serious barbecue inspiration, we sought out Kenny Callaghan, executive chef and pit master at New York City's Blue Smoke and one of the country's pioneers in growing and perfecting barbecue sauces, to give us a few ideas.
Callaghan agreed with us about our issues with the sandwich: why call it a McRib if it's not even made of ribs? To solve this problem, Callaghan made the impossible possible by sharing his slow-braised method for a St. Louis rack of ribs. He coached us through creating the ultimate barbecue spice rub, and then showed us how to braise the ribs so that they reach a point of tenderness where you can actually pull the bone away while keeping the ribs intact — eliminating the bone issue of creating an authentic rib sandwich. Our recipe is the real deal, but it still upholds all of those McRib qualities that make it such a hit. Whether you're a fan of the McDonald's item or not, you will be of our pimped-out McRib.
The Ingredients
We take the most pride in the ingredients of our recipe, because they're as close to natural as possible and give our sandwich its robust flavor. We took a cue from Wilbur for our sauce, because he conducted his own taste test and deemed Hunt's barbecue sauce as the closest to the original. Because he had already done the leg work for us, we tried Hunt's and decided to use it as well. Our rub is a classic barbecue blend with spices like nutmeg and cinnamon mixed in to give it a hint of sweetness.
Braising
To braise our rack of St. Louis spareribs, we rubbed them down with our spice rub and then painted them with the barbecue sauce so that they were extra flavorful and tender.
Bone-Picking
Here's where the actual bone-picking takes place. After about two hours in a 325-degree oven, the ribs are so tender that the bone can be pulled away from the meat. As Callaghan explains it, if the ribs are almost cooked, the bones will not pull away, at just cooked and they'll start to pull, but at fully cooked they'll slide completely out. To get the ribs out, we cut down the center of each rib to break the seal of the tendon and pulled them out.
See all of the steps to pimp your McRib at The Daily Meal
More from The Daily Meal
Reinventing Campbell's Soups

How to Cook Like Anne Hathaway

What to Do with Leftover Candy Canes

Essential Baking Tools