Picture of insane beer pong game falls flat for fraternity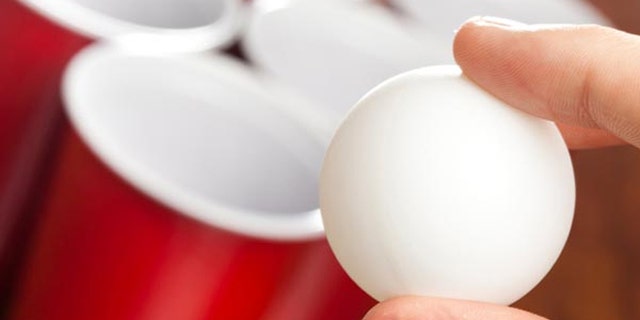 Here's an example of a great engineer feat.
Lehigh University's Chi Phi is in hot water after a photo showing a massive table set up in the fraternity house for an epic game of beer pong went viral.
With an estimated 2,000 beer cups lined up using some 700 cans of beer, the image shows cups stacked up upon cups. In case you're unfamiliar with the game, according to the official rules of beer pong, teams take turns throwing ping pong balls and try to land them in cups filled a third of the way up with beer
The picture of the table, which runs the length of the room, was reportedly taken Dec. 6 by a member of the fraternity during finals week and posted online. It quickly went viral, and that's when school administrators saw it.
We can't show you a picture, but you can see it here.
The image has led to a suspension for the fraternity, pending an investigation by the university. School officials are reviewing whether the brothers hosted an unregistered social event in the house.
The fraternity posted this on its website:
"As of today, December 11, 2013 all activities of the Chi Phi Fraternity at Lehigh University have been suspended immediately. This suspension comes pending the investigation of allegations of University policy violations by the chapter on the night of Friday, December 6, 2013 including providing alcohol to minors, drinking games, hosting an unregistered social event, and irresponsible distribution of alcohol. Additionally, the chapter will be facing Interfraternity Council recruitment violations for allegations of potential new members being present at the facility where alcohol was present the night of December 6."
We have to say, the beer pong set up is impressive, but, dude, just don't get caught.