PETA wants Maine officials to build gravestone in memory of lobsters who died in truck crash
People for the Ethical Treatment of Animals (PETA) asked Maine officials on Wednesday for permission to build a large grave to mark the site of a truck crash that resulted in thousands of lobsters spilling out onto a highway.
PETA hopes to memorialize the "countless sensitive crustaceans" who were killed during the Aug. 22 crash in Brunswick, the animal rights group said.
SEE IT: TIMES SQUARE STREET SHUT DOWN AFTER BEES SWARM HOT DOG STAND
Police said 7,000 pounds of live lobsters were destroyed and it's suspected it was more than 4,500 lobsters that died, according to the Portland Press Herald.
The grave would "remind everyone that the best way to prevent such tragedies is to go vegan," the animal rights group said.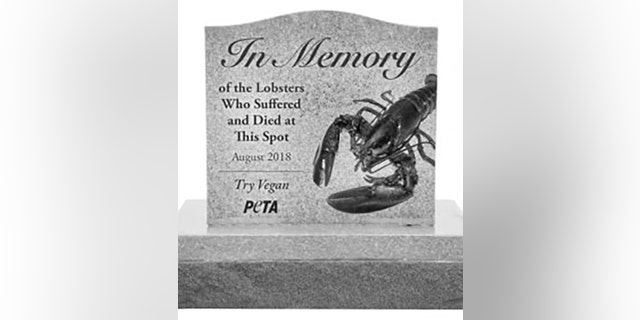 A mockup of the gravestone shows a lobster with the words, "In Memory of the Lobsters Who Suffered and Died at This Spot."
FLORIDA TOWN OF 'MAYO' CHANGES ITS NAME TO 'MIRACLE WHIP'
Maine's Department of Transportation is reviewing the group's request, spokesman Ted Talbot told the Herald. He said temporary signs can be no larger than 4 feet by 8 feet and could be in public for up to 12 weeks. PETA hopes to erect a 5-foot memorial for the lobsters. It would be located on Route 1 in Brunswick.
It's unclear how much the gravestone would cost.
FOLLOW US ON FACEBOOK FOR MORE FOX LIFESTYLE NEWS
PETA sparked controversy last week when the group erected a billboard in Maryland encouraging people to "go vegan" and stop eating crabs.
PETA said the sign was put up as "part of a nationwide campaign to encourage diners to leave crabs and other sea animals off dinner plates and in their aquatic homes."