Pepsi-flavored Cheetos now sold in Japan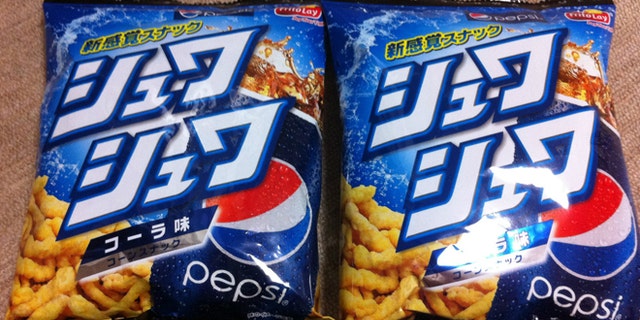 Finally, a way to consume soda and Cheetos at the exact same time.
Into the world of totally bizarre snacks like chicken and waffles potato chips and bacon popcorn comes Pepsi-flavored Cheetos.
"These Pepsi-flavored Cheetos are the latest food hybrid to spit in the eye of Mother Nature," writes Steve from The Impulsive Buy.

Sold in Japan, the Frito Lay Cheetos x Pepsi Shuwa Shuwa Cola Corn Snack are Cheetos that are covered in a fizz-inducing cola powder. According to The Impulsive Buy review, the snack actually fizzes in your mouth with a "definite popping and crackling."
How does it taste? The review says the Cheetos have a strong citrus taste and a "flat cola" aroma. It also says that the snack emits the smell of cinnamon donuts.
Daring souls who want to try Pepsi-flavored Cheetos will have to travel to Japan or buy a bag off of eBay and have it shipped to their home.
Good luck explaining that purchase to anyone checking deliveries.