People chase wheels of cheese down steep hill for annual Cheese Roll race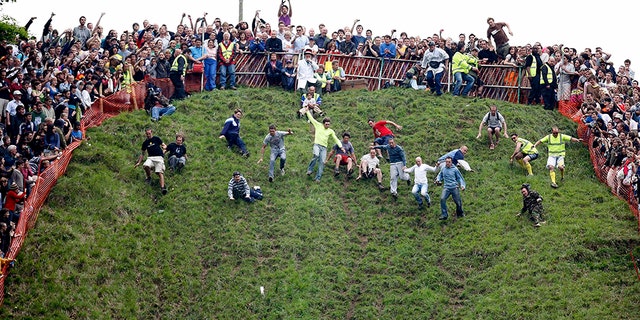 NEWYou can now listen to Fox News articles!
In the U.S., we've got relay races for just about everything from your traditional 5k to annual Wiener Dog races. But in the U.K., they chase cheese.
The annual Cooper's Hill Cheese Roll in Brockworth, England, draws hundreds of spectators eager to watch people hurl themselves down the steep hill after rolling, eight-pound wheels of double Gloucester cheese.
About 200 people gathered this year to watch the races, happily posting photos and video of the brave rollers as they tumbled down Cooper's Hill. To understand just how amazing and ridiculous and exciting and terrifying this is, you'll have to watch a video:
One contestant in the men's race even rolled in only his underwear.
But the ultimate winner of the men's race was Chris Anderson who has now taken home 22 wheels in the last 14 years. Anderson now holds the record for most wins in the race. "I've got nothing to prove now, I'm happy," Anderson told BBC News.
The winners of each race get to take the giant blocks of cheese home with them.
But the ultimate reward goes to people who have the privilege to just watch.