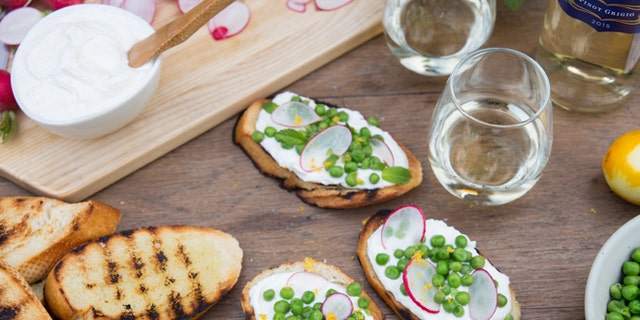 NEWYou can now listen to Fox News articles!
Try out Hilary Duff's favorite wine, Callie Collection which offers a great selection including aPinot Grigio, Chardonnay and Fresh Red Blend - which all together create the prefect wine flight! To spice up the tasting, serve these adorable and delicious Pea Tartines alongside. These are great year-round, but are especially refreshing for the Summer months.
Cook Time:5 min
Prep Time:10 min
Total Time:15 min
Ingredients:
2 tablespoons olive oil
1 loaf sourdough, sliced into 8 ½" thick slices
8 ounces whole milk ricotta
8 ounces feta
Zest and juice of one lemon (about 1 teaspoon zest and 1 tablespoon juice)
? teaspoon salt
1 cup fresh peas, cooked
4 small radishes, thinly sliced
? cup fresh mint, small leaves only (or torn large leaves)
Zest of one lemon
1 tablespoon flaky salt (such as maldon salt)
Optional: 4 pieces bacon, cooked and broken into small pieces
Preparation:
Using a pastry brush, brush both sides of each bread slice lightly with olive oil. Grill the bread on a grill pan or on an actual grill. If using a grill, watch your bread carefully as it can burn quickly. Remove bread or set aside.
Add ricotta, feta, lemon zest, lemon juice and salt to the bowl of or a food processor. Process until smooth, about 30-45 seconds.
Using a spoon, spread 1-2 tablespoons of the ricotta mixture onto each bread slice. Top with 1 tablespoon peas, 4-5 radish slices, 5-6 pieces of mint, a sprinkling of lemon zest and a dash of maldon salt. Serve immediately and pair with a glass of Callie Collection Pinot Grigio.