Parents angry at New Jersey diner adding mandatory gratuities to kids' bills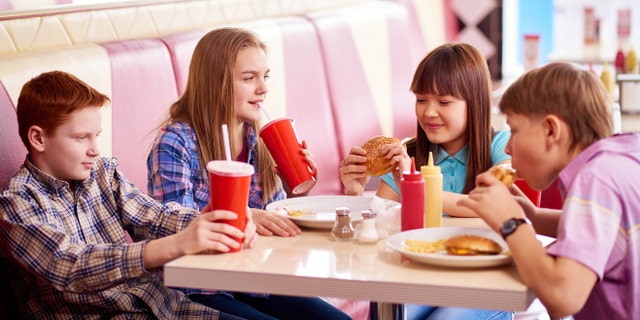 A diner in New Jersey is adding an 18 percent gratuity to the bills of kids who dine without their parents.
Wayne Hills Diner, on the Hamburg Turnpike in New Jersey, is located across the street from a middle school, and is often hit with groups of 20 to 30 kids at a time.
Peter Logos, one of the diner's owners, told NBC New York that when these large numbers of kids come, especially on Fridays, they tie up waitstaff, and often don't tip.
A lawyer for the diner said it's not fair for the waiters and waitresses, who wait on these groups of children for up to one or two hours without receiving a tip afterward.
CELEBRITY LEAVES HUGE TIP FOR BOSTON COLLEGE STUDENT AT RESTAURANT
However, parents are not on board with the mandated gratuity.
"My daughter was coming to me, telling me that every time she and her friends went to the diner, they're being charged the gratuity," Melissa Desch told WCBS-TV. "And when I asked her why, she said [it's] because they're children."
Desch said she and her family have been eating at the diner for years, and was surprised by the change, which she feels unfairly targets her 11-year-old daughter and other children at the Schulyer-Colfax Middle School.
"I was angry because I had been there the week before and I had been there with a group of five, some kids and some children, and I was not charged this gratuity," Desch said.
Desch said she brought the issue up to management, who defended their decision – and even said parents should teach their children how to tip.
"He said that's policy because the kids run out and he feels that they don't tip well, and they don't know how to tip," she said. "I said I could understand that, but again, they're not being given the option, they're being forced to pay them."
Now several parents are boycotting the restaurant based on the upcharge.
"There are enough parents that are willing to not let their kids go back there, and if it's the same group [my daughter is] always hanging out with, it could be 20-30 kids," Desch said. "I'm never going to go back, not after this."
Many of the kids affected, though, aren't upset.
FOLLOW US ON FACEBOOK FOR MORE FOX LIFESTYLE NEWS
One Wayne High School student told NBC New York, "I think it's good only because these people here work very hard, and they deserve more than 50 cents or a dollar as a tip."
"Some people just don't know how to [tip], and it just makes life easier," another student said.
The owners have pointed out that the menu clearly states at the bottom, "management reserves the right to add 18 percent gratuity."
"It's not about the establishment," Desch said. "I've been going there since I was a child. But with them, they don't understand and they just pay the bill, And you know, she doesn't understand that she has a right to not pay a tip."