Papa John's unveils bacon cheeseburger topped pizza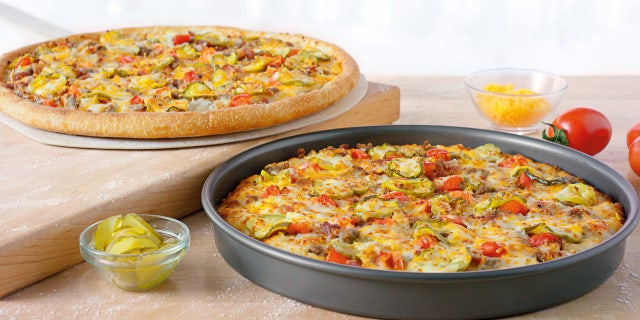 Can't decide between a bacon cheeseburger or a pizza?
Papa John's wants to end your indecisive fast food woes with a new, fully-loaded pizza just in time for grilling season.
The Bacon Cheddarburger Pizza is pretty much exactly what it sounds like—a pie topped with hickory smoked bacon, beef, dill pickle slices, roma tomatoes, Wisconsin cheddar and mozzarella cheese, plus a "zesty burger sauce," according to a press release from the pizza chain.
The pizza is available with a regular crust or as a deeper-dish pan style pizza.
FOLLOW US ON FACEBOOK FOR MORE FOX LIFESTYLE NEWS
The chain has released different versions of a pizza-burger hybrid over the years including a Bacon Cheeseburger Pizza in 2015 and a Double Cheeseburger Pizza in 2014.
Even if you're not a big meat-lover, Papa John's is hoping some of its other selections will reverse declining sales in select markets. In April, the chain announced that it was rolling out organic vegetable toppings at about 35 locations near the chain's headquarters in Louisville, Ky. At the time, Papa John's said it plans to roll out the toppings nationwide, based on supply availability.
A large regular crust or deeper-dish pan version of the Bacon Cheddarburger pizza is only $10 and if your arteries aren't calling for a break, customers can add Bacon Cheddarsticks-- meant to be dipped in the chain's popular garlic sauce-- for only $6 more.