Panera Bread recalls cream cheese over listeria concerns, sparks panic among consumers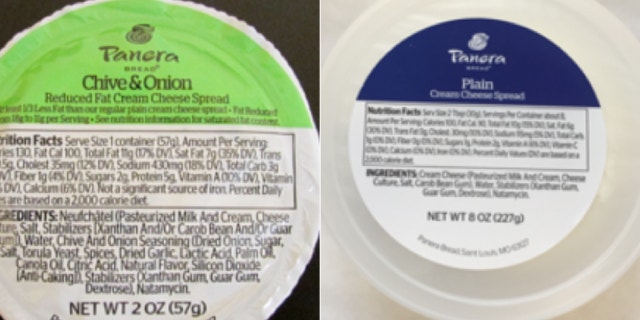 NEWYou can now listen to Fox News articles!
Panera Bread announced on Sunday it was recalling packets of cream cheese after some samples were found to contain listeria, causing panic among fans of the fast food chain.
Although no illnesses have been reported, the company issued the recall as a precaution, according to a news release. Five types of cream cheese — Plain Cream Cheese, Reduced-Fat Plain Cream Cheese, Reduced-Fat Chive & Onion Cream Cheese, Reduced-Fat Honey Walnut Cream Cheese and Reduced-Fat Wild Blueberry Cream Cheese — will be pulled from cafes in the United States.
"Only one variety of 2-oz cream cheese from a single day yielded the positive result. Our intent is to go above and beyond for our guests. You should expect nothing less from Panera," said Blaine Hurst, Panera's president and CEO.
PANERA CEO CHALLENGES FAST FOOD EXECS TO EAT FROM THEIR OWN KIDS' MENUS
The affected cream cheese packages have the expiration date of on or before April 2, 2018.
Listeria was first discovered in samples of the two-ounce cream cheese from a single production day. The bacteria can cause symptoms including nausea, abdominal pain, diarrhea, fever and severe headaches, according to the news release. In some cases, it could cause death.
Sunday's recall announcement quickly ignited panic among Panera lovers. Customers reported cashiers saying there was "no cream cheese" in the stores.
"When your @panerabread store tells you they don't know why they have no cream cheese for the foreseeable future and then a 2-second Twitter search reveals they've recalled it due to possible listeria contamination. O.O," Laura Kaye tweeted.
FOLLOW US ON FACEBOOK FOR MORE FOX LIFESTYLE NEWS
A user named Brittany also tweeted: "I will say, watching the reactions of people as the @panerabread cashiers repeat over and over "no cream cheese" is how I think the apocalypse begins..."
"Me when someone asks if I had cream cheese on my bagel this morning at Panera Bread," Steven Audia said.
JD wrote: "I guess we're done with Bagel Tuesdays at my workplace."