Padma Lakshmi Reveals the One Guilty Pleasure She Can't Get Enough Of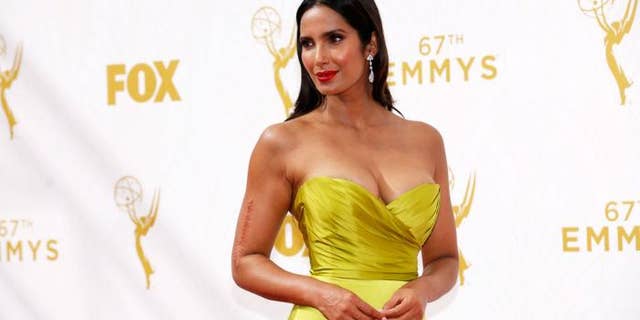 Padma Lakshmi loves to eat as much as you do.
The celebrated cookbook author and host of Bravo's hit series "Top Chef" enjoys hosting get-togethers and chowing down on tasty grub, but unlike the rest of us, the 45-year-old beauty — who could easily pass as a runway model — prefers celebrating with a bit more style.
Lakshmi recently developed Padma's Easy Exotic, a line of frozen rice and lentil entrees available in many natural food stores, with the aim of providing mouthwatering, healthy dishes, minus the mess. To satisfy her taste buds, the collection features Whole Grain Brown Rice, Thai Jasmine, Lemon Rice, and Curried Lentils — just to name a few.
And because we shouldn't be savoring Lakshmi's tantalizing dishes on mere paper plates, she's also launched two tableware lines (sold at Wayfair.com, and Amazon.com and Bed, Bath & Beyond), all paying homage to her colorful Indian heritage.
So how can you, too, host a swanky soiree or prepare tantalizing dishes like Lakshmi? FOX News Magazine spoke with the foodie herself, and she dished on her latest culinary achievements — and revealed one guilty pleasure that we all can agree on:
FNM: What inspired you to create your tableware and frozen rice collections?
PL: I've always loved Turkish glass and Moroccan ceramics, and I wanted to incorporate those elements into both of my tableware collections — Easy Exotic and The Padma Collection. I wanted to create something romantic and feminine, yet modern and timeless.
Entertaining is actually how I discovered the joy of frozen rice. I didn't want to waste any of the rice we made for dinner parties, so I froze them in individual portions for myself and for my daughter. Since the traditional method of cooking rice is steam, it reheats beautifully in the microwave. I wanted to share healthy fixes with everyone for the dilemma of what to make on a busy weeknight, so that's why I developed my line of Easy Exotic organic rices. It's great to always have on hand, ready in minutes, and so easy!
FNM: Some people may be hesitant to serve frozen food. How is your line different?
PL: I myself am not naturally inclined to reach for packaged foods, so I understand why some people may think this. My rices are organic, gluten free, vegan and made without GMOs. We also flash freeze all of the vegetables we incorporate into the rice selections the minute we get them from our farmers, thereby locking in all of the nutrients. I controlled every step of the development process — from selecting the types of rice we use, to creating the exact flavor profiles. I would never sell a product I don't feel absolutely comfortable putting in the mouth of my own daughter Krishna on a consistent basis.
FNM: What's the most common misconception people have about Indian cuisine?
PL: A common misconception is that most Indian food is complicated. It's actually very delicate, and doesn't have to be spicy at all. In fact, my favorite comfort food, which is seldom on Indian restaurant menus, is a simple bowl of salted yogurt and rice. Yogurt rice is a daily staple in a family's diet. This dish is so mild that it's often eaten with condiments to spice it up.
FNM: That's it?
PL: I think curry is a term that is often misinterpreted — it refers to a type of dish, not a specific spice, and can have several different meanings. Saying that you're going to have curry is like saying you're going to have pasta. There are numerous flavor combinations that you can create. For example, fresh curry leaves, which are common in South Indian cooking, have a kind of nutty flavor, and are different from curry powder, which is actually a blend of different spices that are dry roasted and then ground together in different proportions. If you buy one curry powder, buy a good quality Sambar or Madras curry powder.
FNM: What is it about Indian art and architecture that continues to inspire you as a chef?
PL: The wonderful thing about Indian culture in general, whether it's art, architecture, music, textiles or silversmithing, is that the civilization is so old and so young at the same time. Modern India is so visually stunning; it's hard not to be inspired at every turn. Whether it's the curve of a wrought-iron fence, the pattern at the hem of a woman's sari, or the burst of flavor in a single spoonful of street food — India is my all-time jam. There's such a deep history, with influences dating back over 5000 years, from the British and Portuguese, to Islamic and even Jewish culture in places like Cochi. India is a never-ending fountain of inspiration to me. I also love what other Indian chefs like Floyd Cardoz or Vikas Khanna are doing to incorporate modern cooking technique into traditional centuries-old dishes. When I travel back to India I learn something new every time. The various influences, from Gothic to modern in architecture and the coming of American pop culture even, inspires me to no end.
FNM: What are some of your healthiest kitchen habits and guilty-pleasure foods?
PL: First and foremost, I never feel guilty about taking pleasure in eating any food, regardless of how healthy or gluttonous it may be. That said, I try not to eat fried chicken too many days in a row, although this is hard, especially in the summer months, when we often have people over for summer buffets. The healthiest kitchen habit I recommend is to pick a weekend day or evening when you would normally be binge watching Netflix, and use that time to precut your staple veggies for the week. Most recipes frequently call for things like onions, garlic, bell peppers and tomatoes, so make it easy on yourself and cut enough for several weeknight meals. Professional chefs call this process "mise en place." This way, when you come home during the week tired from work, the majority of the prep is already done — you can just throw everything into a pan.
FNM: You mentioned you host summer buffets. What are some major do's and don'ts we should keep in mind when hosting?
PL: Make most of your food ahead, or at least 70 percent of your menu forgiving enough so that you don't have to stand at the stove until the very last minute. When you're relaxed and having a good time with your guests, they will be relaxed and having a good time too. When they see you scrambling to get food on the table, it feels uncomfortable. If this happens, and you do find yourself in the weeds, don't be afraid to assign a couple of guests a task that will keep them both busy and feel like they're helping. It's a good ice-breaker for two people who don't know each other. It can also be a great matchmaking tip as well!
I'm lucky enough to have a beautiful dining room, but I actually prefer to serve my food buffet-style. This allows people to move around and get to know more of the guests at the party, rather than just who is sitting on either side of them at the table. The most important element of entertaining is actually not the food, nor is it the décor — it's the people attending. It's important to curate a nice mix. A great party is made up of great people.
FNM: How has 'Top Chef' changed the way you cook and eat?
PL: This may surprise you, but fundamentally, it hasn't. Our show is about professional chefs that make all kinds of extravagant food with strange ingredients, and in general, perform culinary feats of excellence that I would never dream of attempting in my own kitchen. When you're going out to eat a nice meal, and putting effort into your appearance and spending money on a babysitter, you should absolutely expect that level of finesse. But a good home cooked meal is best when everything is simple. My daughter Krishna and I eat very simply at home. We eat a very well rounded, mostly plant-based diet. We love traveling the world with our fork, and we try to experiment with different flavors — everything from Moroccan to Mexican food, but that often means just using a particular spice or adding another ingredient to our normal staples.
Food doesn't have to be complicated to be good.