Oregon wine country: Go for the pinot noir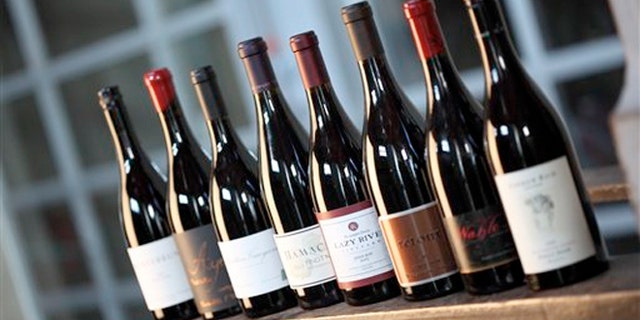 Driving southwest from Portland an hour or so through the suburbs, you hit the heart of Oregon's wine country rather suddenly. Here the mountainous Coast Range slopes to the Willamette Valley floor, which is smothered with vineyards that produce some of the best pinot noir on earth.
Almost too quickly, you're far from Portland and into lush, green farmland where white-on-blue signs — often several to a post, flipping past like roadside ads for Burma Shave — point up quiet, twisty roads toward small, family-run wineries.
Oregon is home to some 500 wineries and is one of the top three wine-producing states, along with Washington and New York, after California, which produces 90 percent of U.S. wine.
But wine tourism here is a little different than in some other regions. Oregon's winemakers are shooting for the high end of the market, targeting customers willing to pay $35 or more a bottle, though some varieties, especially whites, sell for less. Many vintners produce 1,500 or fewer cases a year and sell it all through their tasting rooms or wine clubs. You have to go there to find it, and visitors are doing just that.
"We're not interested in taking over," said Carrie Kalscheuer, direct sales manager at Rex Hill winery near Newberg. "We're interested in making a good pinot noir and being known for that." It is a sentiment echoed by others in the area.
For decades vintners believed northern Oregon was too cold to grow good wine grapes. They were wrong. Once growers began to realize the weather wasn't the problem they had feared, they realized that the climate plus the soil varieties produced by the state's varied geologic past melded beautifully to grow the thin-skinned, low-yielding and sometimes cranky pinot noir grape. Wine characteristics, growers say, can vary substantially from area to area in the valley, depending on the soil, even though the grape is the same.
The wines from the pinot noir grapes, the grape of the famed Burgundy district of France, are so good that they have at times bested their French forebears in international competitions. These wines also show up at formal White House dinners and on the Wine Spectator's Top 100 list, where seven landed in 2006.
Oregon wineries got about 1.5 million visits last year, roughly half by out-of-staters. Linea Gagliano, who specializes in wine tourism for Travel Oregon, says that because the wineries tend to be small and family-owned, "it's not Napa Valley-busy, it's a more intimate experience. The emphasis is on quality, not so much on quantity."
One of the best, and busiest, times to visit is during the crush, when the grapes are harvested and pressed for the year's vintage. The crush normally extends well into October. Just remember that while there will be well-informed employees on hand, the winemakers themselves, otherwise often available, may be tied up with production.
On-site picnic facilities at the wineries are common and a few larger operations have high-end restaurants. Luxury restaurants and tourist lodgings are expanding to accommodate the soaring interest in wine tourism here, and include the Allison Inn, named by Travel + Leisure magazine as the top resort spa in the continental U.S. for 2012.
"People who are going to spend $50 on a bottle of wine want fine dining and accommodations," said Ellen Brittan, whose family owns Brittan Vineyards in McMinnville. "The high-end wineries and accommodations complement each other. They could not survive on their own."
A wide range of inns, B&Bs and simpler accommodations are available in the heart of the region and in nearby Portland, Salem and Corvallis, an hour or so away for day-trippers headed to the vineyards. Note that on the narrow highways through wine country, traffic can be dense at times.
But the days of free romps through tasting rooms generally are over, and visitors here, as in California, often pay a tasting fee or maybe $5 or $10 for samples of three or four different wines. The fee often is waived for a minimum purchase. Some tasting rooms even in out-of-the-way establishments may get a few hundred visitors in a week, and winemakers say they can't afford to pass out large quantities of free samples from vineyards with tiny production capacities.
In 2011, some 20,500 acres in Oregon, about 32 square miles, were covered in wine grapes, well over half of it in pinot noir, followed, not closely, by pinot gris, chardonnay and more than 60 other varietals. The Willamette Valley is the state's biggest wine region, but vineyards and wine tourism are also expanding in southern Oregon and in the Columbia River Gorge. Oregon protects prime agricultural land, and hillsides with drop-dead views that might otherwise have gone to housing drip with vines that spill toward the valley floor.
Even in the heart of the Willamette Valley wine region, the wineries are scattered along twisty two-lane roads where the individual behind the counter, the grower, the winemaker, even the truck driver may be one and the same person. Most seem eager to discuss their wine and how it is made. But many of them advertise very little, and while they welcome visitors, they may be open only a few days a week or by appointment, so call ahead.
Scores are tucked away in, above and around towns such as Dundee, Lafayette, Amity, Carlton, McMinnville and Newberg. Signs pointing the way are frequent along Highway 99W. Carlton, once a failing sawmill town, calls itself the "Wine Capital of Oregon." About 40 winemakers do business in the town of about 2,000 through small wineries or tasting rooms. The Carlton Winemakers Studio is home to eight small winemakers who share communal facilities and equipment; their output varies from 200 to 5,000 cases a year.
Brittan, who is general manager of the studio, said the producers don't consider themselves competitors. And perhaps that barn-raising mentality is appropriate for a region that was a destination for pioneer wagon trains 170 years ago.
"The whole valley pitches in,'" Brittan said.