Oregon fast-food restaurant employees create stir with 'Abolish ICE' and 'No one is illegal' buttons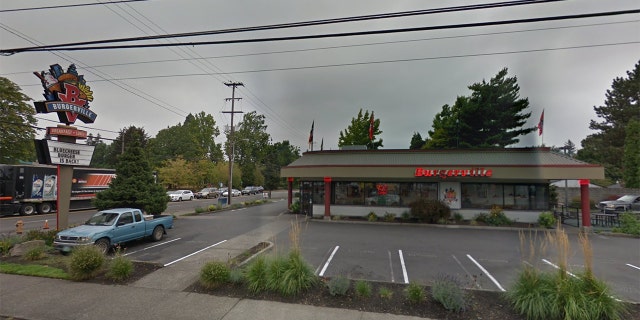 NEWYou can now listen to Fox News articles!
A restaurant chain in Oregon is receiving customer backlash after employees started wearing politically charged buttons that read "Abolish ICE" and "No one is illegal" — much to the company's dismay.
Late last month, Burgerville sent home 10 workers from its Montavilla location in Portland after they refused to take off the pins which, supervisors said, violated company policy that bans "controversial" pins.
However, one day later, the company gave the employees back pay and let them return to work with their protest buttons after the union called the policy a form of "white supremacy."
RESTAURANT FACES BACKLASH AFTER SHAMING TEEN WHO PAID BILL WITH QUARTERS
The company, a small chain that operates in Oregon and southwest Washington, is currently negotiating a union contract with the Burgerville Workers Union (BVWU), the first federally recognized fast-food union in the United States.
The talks reportedly include the employees' rights to express their political views during work hours.
The BVWU did not immediately respond to Fox News' request for comment, but made clear on Facebook its support of the Montavilla Burgerville employees.
MAINE RESTAURANT RESPONDS TO 'DISTURBING' COMMENTS AND 'HOSTILE' CUSTOMERS ANGRY OVER FRENCH FRY CHANGE
"Let's be crystal clear: the only reason they changed this policy is because of the actions of our co-workers. When workers at Montavilla chose to not take off their 'Black Lives Matter', 'No One Is Illegal' and 'Abolish ICE' buttons – knowing they would be forced to go home – they used their collective power to denounce white supremacy and shut down the drive thru and dining hall, pushing Corporate to change their policy," the recent post reads.
"While this is a huge victory, Corporate is not off the hook."
The post goes on to "demand a formal apology to the crew at Montavilla for forcing them to decide between their jobs and supporting the fight against white supremacy."
Burgerville corporate did not immediately respond to a Fox News request for comment either, but Liz Graham, director of human resources, told The Oregonian that the company is working on a "better way" to roll out its button-free policy.
FOLLOW US ON FACEBOOK FOR MORE FOX LIFESTYLE NEWS
"Guests provided feedback that they didn't want to see personal and political messages while they ate," Graham told The Oregonian. "Additionally, some employees expressed that the content of the buttons was drawing unwanted attention that made them uncomfortable."
Several customers have taken to Twitter to call for a boycott of the company after employees were allowed back to work with their protest pins.
However, there were many patrons that voiced their support of the employees' actions.
The company has expressed concern that buttons worn by employees could lead customers to make assumptions about the company's politics.