One cup of frothy coffee, please: UK store ditches confusing lingo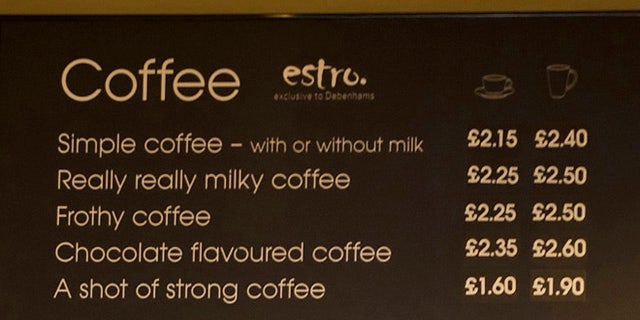 Don't sweat it if you don't know the difference between a grande latte or a demi cappuccino-- British department store Debenhams is making ordering coffee really, really simple. The menus of their in-store coffee shops have ditched terms like "espresso" and "mocha" for the more descriptive "a shot of strong coffee" and "chocolate flavored coffee."
Customer feedback has revealed that more than 70 percent of coffee drinkers have had a case of "coffee confusion" in cafes, bars and restaurants, Debenhams said in a press release.
"If they can read the menu clearly, they are more likely to try something new – and who knows – they may come back for more," Chrissie Maher, the founder of this Plain English Campaign, said in the press release.
The simpler menu can only be found at the Debenhams on Oxford Street in London. And no more worrying about the difference between a grande and a venti. The store also offers its coffee drinks in two sizes: a cup or a mug. Tea drinkers can order a pit of regular tea or a pot of specialty or fruit tea.
Debenhams has more than 160 cafes and restaurants in the U.K. and Ireland, and coffee makes up 67 percent of its sales.