One Bowl, Little Clean Up: Let Them Bake Cake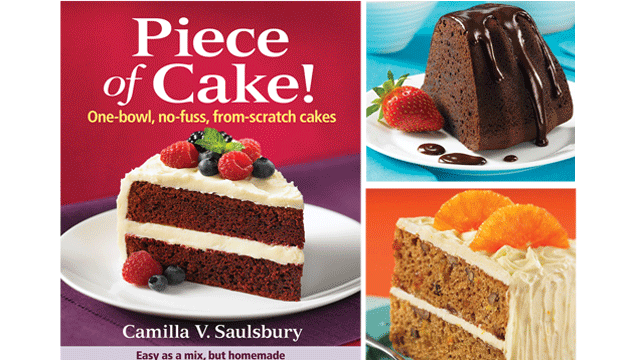 If 50s singer Gracie Fields knew how complicated cake recipes were going to be she'd have changed her classic, "If I Knew You Were Coming I'd Have Baked a Cake" to "Oh, No, I Wouldn't."
Until they too were subjected to today's joy-stripping, over-complication of many things food (make it better by making it organic, local, more expensive, and oftentimes a real pain-in-the-neck to make)cakes used to be manageable, one-bowl affairs. Not any more.
Today's recipes require one bowl for dry ingredients, one for wet. Add another for melted chocolate. Another for whipped egg whites, one more for yolks. Plus the utensils each task requires. Then there's buttering and flouring the cake pan. Since breadcrumbs ensure a better release than flour, some recipes suggest grinding your own. All of which turns baking a cake into a kitchen-intensive buzz-kill with epic clean up.
And that's why people with lives resort to mixes. "I use them too," says Camilla Saulsbury, author of Piece of Cake: One Bowl, No-Fuss, From-Scratch Cakes (Robert Rose). That's a comforting admission from a mom who's won a slew of national cooking competitions including the National Chicken Cook-Off, the Better Burger Contest, and the Food Network's Ultimate Recipe Showdown (cookies).
Saulsbury discovered Wacky Cakes while researching her doctoral dissertation on the contemporary meanings of home cooking in American culture. They changed the way she baked.
Wacky Cake, aka, War Cake, Depression Cake, Joe Cake, Dump Cake and Crazy Cake is a one-bowl-made-from-scratch chocolate cake that has no eggs or dairy. Vinegar and baking soda provide leavening—the same ingredients that make volcanoes explode in high school science class. Saulsbury took the one-bowl approach, experimented with it, and applied it to a broad range of recipes.
Her Perfect Chocolate Bundt Cake melts chocolate chips and cocoa in bowl with boiling water (no double-boiler, no microwave chocolate-tempering). Then you blend in softened butter, sour cream, eggs, sugar and vanilla, then flour. It feels like something kids would come up with if left alone in the kitchen. But it comes out rich, moist and intensely chocolately.
Marmalade makes two-layer Marmalade Cake moist and orange-y without zesting or candying oranges. Oil, butter and buttermilk make it tender, while nutmeg, cinnamon, pecans and golden raisins make it a kinder, gentler fruitcake and the perfect bridge between Thanksgiving and Christmas.
Click here to read the recipes for the Perfect Chocolate Bundt Cake and Marmalade Cake.
This is the way people often used to make cakes says Saulsbury until mixes further simplified things. Betty Crocker introduced a just-add-water-and-mix Ginger Cake in 1947, followed by a layer-cake mix. Duncan Hines and Pillsbury soon entered the baking fray. Priced at around $.35 per box, cakes could be made with little effort and money.
A renewed interest in baking that started in the late 80s and early 90s took a professional pastry chef's approach to baking. Multi-step cake recipes had always been around but they became the norm rather than the exception.
Those recipes call for separately whipping butter, eggs and sugar, aerating the fat and enhancing eggs' natural leavening properties to create volume. Adding and alternating wet and dry ingredients prevents the proteins ("glutens") in the flour from developing. Over-beating batter develops glutens, which deflates volume and toughens the cake.
Saulsbury whisks dry ingredients then adds pretty much everything else at the same time. This creates cakes with optimal loft, she says, because she beats the batter for a far shorter time. It's a practical method that keeps gluten development low and results in an incredibly tender cake she says.
Her user-friendly baking tips are equally practical. "Forget sifting," she says. A whisk does the same job of mixing and aerating dry ingredients. If you've forgotten to let butter soften, spray a grater with Pam and grate your butter. A full stick takes 30 seconds. It warms up fast and the Pam makes for easy clean-up. Room-temperature eggs make cakes fluffier. If they're ice-cold, zap water in your microwave and submerge the eggs. A minute or two brings them up to room temperature. Forget buttering and flouring cake pans. She swears by Baker's Joy, a flour-and-oil spray that gets into every nook and cranny.
Saulsbury's interest in cake is also personal. She's a transplant to the South where "cake is a whole culture. It's for holidays but it's also for after church, for everyday hospitality," she explains.
Baking success can turn anyone into a baker. A single disaster can turn anyone into confirmed mix buyer for life. One-bowl cakes occupy that happy middle ground.