Olive Garden's mysterious countdown clock ends, reveals restaurant is issuing more Pasta Passes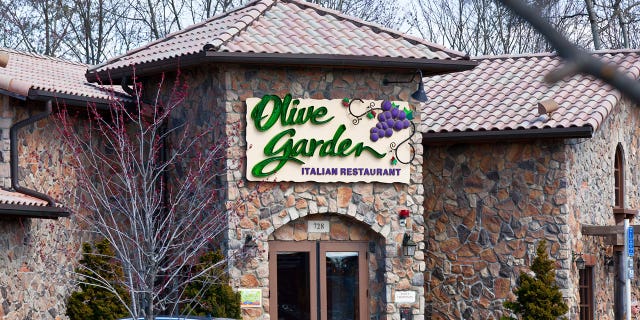 Olive Garden has been teasing a "huge" reveal with a mysterious countdown clock over the past few days, and now they've finally revealed the news: The restaurant will be issuing 10 more of its coveted Annual Pasta Passes via a "digital scavenger hunt."
"Here's the deal: Each one of the riddles, puzzles and ciphers below uncovers the name of a Twitter profile, an Instagram handle, or a Facebook group," Olive Garden explained of the promotion, along with several pictures containing cryptic clues.
"If you're the first person to solve that puzzle, and send a direct message to that profile or post in the Facebook group with the secret phrase 'Pasta Pass Please,' you're the winner!"
MAINE RESTAURANT TO GET LOBSTERS HIGH BEFORE KILLING THEM
News of the "digital scavenger hunt" comes after the restaurant posted a mysterious countdown clock to its website on Monday (the site's URL literally calls it a "mysterious countdown"), but with nary a clue about what to expect when the timer hit zero, aside from some text reading, "If you thought unlimited breadsticks were big…"
Naturally, the Twitterverse took it upon itself to speculate about what the surprise could possibly be. But over the next few days, Olive Garden shut down theories such as expanded delivery, the return of the "mixed grill" dinner, or updating "your sticky, old, outdated tables and chairs."
But those weren't the only guesses. When the timer ends, at least one Twitter user predicted Olive Garden was preparing to launch "World War 3," while another said "pancakes," likely as a throwback jab to IHOP's "IHOb" debacle.
ARBY'S OFFERING FREE 'SANDWICH' FOR LIFE
Olive Garden did not immediately rule out either option. The company did, however, respond with one of those cheeky "lips sealed" emoji when a follower asked if they would be issuing additional Pasta Passes this year.
FOLLOW US ON FACEBOOK FOR MORE FOX LIFESTYLE NEWS
Additional rules for Olive Garden's Pasta Pass scavenger hunt can be found on the restaurant's website.