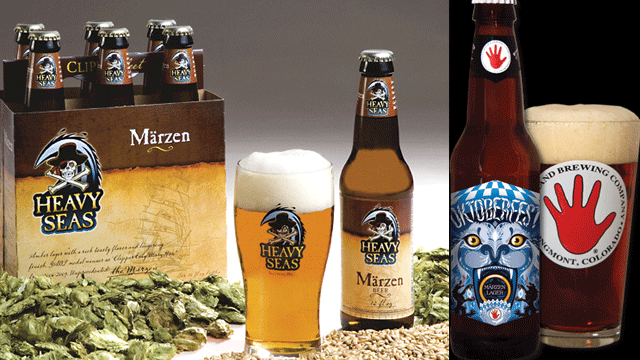 Come October, when the leaves turn gold and the air becomes brisk, few things hit the spot as well as beer and sausage. And what could be a better venue for combining the two than Oktoberfest?
Technically Munich's Oktoberfest ended last weekend, but in the U.S. the parties continue.
Click here to read about Oktoberfest in America.
And craft brewers that gin up seasonal Oktoberfest beers every year to celebrate the season make sure the beer keeps flowing all month long.
The traditional German festival began as a celebration of King Ludwig I's marriage to Princess Therese. The horse races that marked the end of the original celebration were repeated the next year – giving rise to Oktoberfest. And what marriage party is complete without massive consumption of alcohol? This year, more than 2 million gallons of beer were downed to commemorate the largest "fair" in the world.
At the real Oktoberfest, only beer brewed in Munich can be served, and most of what is served is Marzen, a medium to full bodied German style of beer with a distinctly malty flavor and crisp and clean finish.
For those whose Oktoberfest spirit goes strong all the way through October, there is a wide selection of craft brews out there to celebrate. Many of these beers are delicious, yet a large number of them aren't Marzens – the traditional style of Oktoberfest. So what's a traditionalist to do?
Lucky there are a few Oktoberfest Marzens that will help you keep the party going and help wash down the last brats and sausages of the season.
Heavy Seas Marzen -- Baltimore has its fair share of Germans, and it shows in this extremely traditional expression of the Marzen style. It pours a rich gold and gives off a waft of sweet malt. It's a tasty bready mouthful, with just enough hops to counter the slightly sour fruit. There's some heft to the beer too. Not so much as to make it heavy, but enough to ward off the fall chill. It's about as drinkable as brews come too, meaning the bottles can disappear in a hurry. Almost as fast as the sausages.
Left Hand Brewing Oktoberfest – Not surprisingly given its beer portfolio, Colorado-based Left Hand Brewing makes a mean Oktoberfest brew. Simple and straightforward, this Marzen pours a vibrant shimmery copper, with a biscuity nose that speaks of good things to come. The malty flavors and vibrant mouth feel lead in to spicy hops that offer up a nicely balanced crispness. Left Hand claims the beer takes more than two months to brew up, and the well-balanced flavors do the traditional style justice. However, the malt can be a little overwhelming for those who don't like their beers on the sweeter side. On the other hand, paired up with a brat laden with stone ground mustard it's just a little short of heaven.
Ayinger Oktober Fest-Märzen – Brewed up in Munich, this Marzen is enough to put any American brewer off traditional brewing for years to come. Beers like these demonstrate why it is that the Germans have retained their reputation for excellence for so long. This copper-gold masterpiece smells caramel-sweet, but hits the tongue with rich full-bodied bread and wheat notes, almost coating your mouth in pure liquid Autumn. There's just enough carbonation to cut the flavors back and prep you for just a touch of bracing hops, not to mention another sip. Or an entire bottle. Few things could bridge the gap between summer and winter better than a bottle of Ayinger Oktober Fest and remind us of the magic that can happen with just a few ingredients and a mastery of the brewer's craft.
Hacker-Pschorr Original Oktoberfest – One of the most stories and well-known of the Munich brewers, Hacker-Pschorr lives up to its reputation with its Oktoberfest offering. Heavier than most Marzens, Hacker-Pschorr is a deep burnished copper and gives off a much more toasted aroma than its lighter family members. The caramel malt comes through loud and clear, with brown sugar and citrus muted on the swallow along with some gentle hops spice to balance the mix out. It goes down surprisingly easily for a medium-bodied beer, and leaves an almost nutty aftertaste behind. It's much more complex than the typical Marzen, making it a good choice as the weather turns colder but the snow hasn't quite flown yet. It also happens to be one of the best ways to boil brats known to mankind, adding ridiculous levels of flavor to the sausages. Clearly, the Germans know a good thing when they bottle it.