Obama brings his own beer on the campaign trail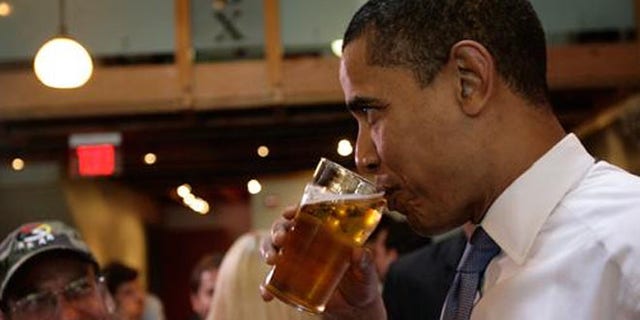 On Monday President Obama won over a tent of drinkers at the Iowa State Fair when he declared that he'd buy a round of beers for 10 people –as long as they weren't a Romney supporter. This prompted chants from the some in the group who started chanting, 'four more beers!'" according to the pool report.
But Obama apparently could have just popped back to his motorcade instead.
Why? The Des Moines Register reveals the presidential bus is stocked with beer. But not just any beer --it is White House brew reportedly made with equipment the Obamas bought with their own money.
Responding to reporter questions, White House Spokesman Jay Carney says Obama does indeed drink the beer, which comes in light and dark varieties.
Carney, who also drinks it, declared it "refreshing," saying: "It is quite good."
One supporter at a Knoxville coffee shop got to take a sip when Obama made a stop there on Tuesday, reported the Register
When it comes to beer, Republican candidate Mitt Romney doesn't have much to say on the topic. Since he's a Mormon, he doesn't drink beer or any alcohol. However, Fox News reports that he is fond of chocolate milk.