NYC restaurant apologizes over 'raunchy' footage of barely dressed dancers performing in dining area
A New York City restaurant has found itself at the center of controversy after a local woman captured footage of two "barely-dressed dancers" performing for a group of men inside the eatery — but still visible from the street — on Sunday evening at 8:30 p.m.
The owner of the Casa Restaurant and Lounge, located in the Bronx, has since explained that he had allowed a local rapper to film a music video inside his establishment, but told the rapper to leave when he felt things were getting out of hand, News 12 reported.
WARNING: Footage contains graphic content and explicit language.
BIKINI-BARISTA COFFEE CHAIN IN CALIFORNIA DRAWING CRITICISM FROM RESIDENTS NEAR NEXT LOCATION
He also apologized and promised to use better judgement going forward.
"I'm ashamed and I'm embarrassed but what I can say in true confidence is that I will do the right thing … I take responsibility for it," said Casa owner Sam Beltran.
"It was not strip show, it was not a bachelor party, it was a closed event. No kids were here, no patrons were here," added Beltran.
The rapper, Alex La Gras, also confirmed that management did ask him to leave, and he complied.
Footage of the incident was shared to social media on Monday, and appeared to depict two women dancing on the floor amid several men, some of whom appeared to be throwing dollars at them.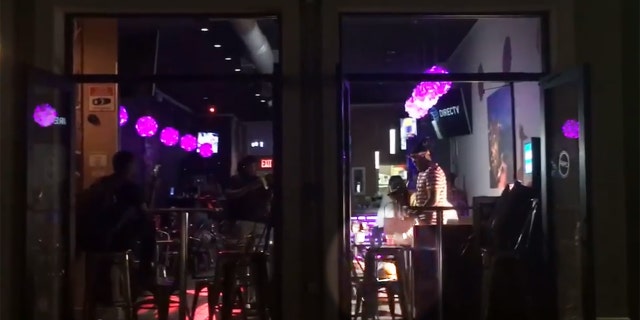 "I'm not sure about other residents of this community, but speaking for myself, I am not OK with this, and I will remain vigilant and vocal should this occur again," wrote Facebook user Miriam Gutierrez-Cozzi of what she witnessed inside the Casa Restaurant and Lounge on Sunday.
WAITRESS FIRED OVER TRIPADVISOR REVIEW WINS OVER $2,500 IN LAWSUIT
In her post, which contained the "raunchy" footage, Gutierrez-Cozzi also invited her fellow residents to report the restaurant to the local community board, which has since held a meeting to discuss the issue, News 12 confirmed.
Management from Casa Restaurant and Lounge attended the meeting, and reiterated that this kind of thing wouldn't happen again, according to footage shared to Facebook.
FOLLOW US ON FACEBOOK FOR MORE FOX LIFESTYLE NEWS
A representative for the restaurant added that the "vision" the rapper had initially conveyed to management, concerning his video, was more about creating a general party atmosphere, and that the rapper did not specifically explain that he was planning to include the provocative dancing.
"It was a complete switch," he said.
"It was addressed, immediately, and those individuals were removed, every single one of them, because it's not Casa's policy, or procedures … Casa has always been a family restaurant."