NYC deli creates Tim Tebow-inspired 'Jetbow' sandwich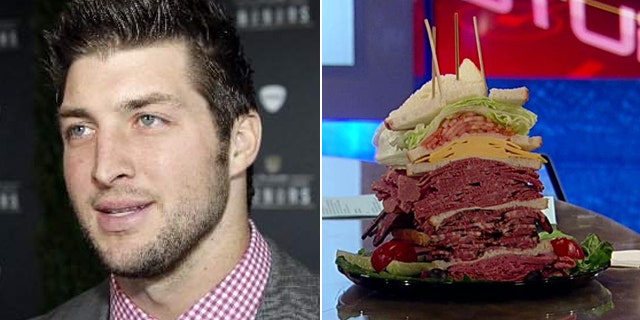 Now that's some sandwich.
New York City's famed Carnegie Deli introduced the "Jetbow" on Monday in honor of new Jets backup quarterback, Tim Tebow --a 3.5-pound monstrosity containing corned beef, pastrami, roast beef, American cheese, lettuce and tomato on white bread.
Owners of the deli--famous for making massive sandwiches few humans can eat alone -- say Tebow's clean-cut American image inspired the sandwich.
Sandy Levine told ESPN: "He's the poster boy for every parent and what they want their kids to be. Very religious, very clean-cut, an outstanding student, he does charity work. What more do you want as an athlete than him?"
The deli has other sandwich creations that honor celebrities, such as "The Woody Allen," and "The Melo," named after Knick's star Carmelo Anthony. But it is the first time the restaurant will be using white bread and mayonnaise in a sandwich created for a celebrity, instead of the traditional rye bread and mustard.
The sandwich will cost $22.22 and was released to on the same day Tebow held his first news conference, held in Jets' field house.
The "Jetbow" isn't the only thing that's been named after him since joining the Jets. Brother Jimmy's-a bar in Manhattan-has created a "No Sex on the Beach" drink — a non-alcoholic virgin version of the popular Sex on the Beach beverage.