Nutella maker fights back against UK study declaring key ingredient a cancer causing agent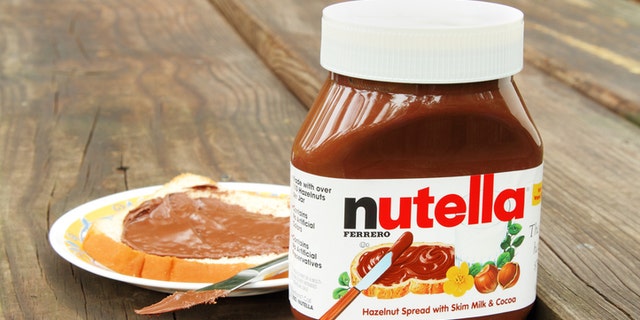 Italian confectionery firm Ferrero, the maker of Nutella, is battling back in defense of palm oil, an ingredient that many food companies are now boycotting amid claims from a U.K. study that says the controversial ingredient may cause cancer.
In May, the European Food Safety Authority (EFSA) said that palm oil produces a higher potential carcinogenic contaminant than other vegetable oils when refined at temperatures higher than 200 degrees Celsius (about 390 degrees Fahrenheit).
5 THINGS YOU DIDN'T KNOW ABOUT NUTELLA
Although authorities didn't recommend against eating it, they did say that further evaluation and research would be needed to determine the level of risk.
Now the creator of the popular chocolate and hazelnut spread, is pushing back against those claims and is publicly arguing that a change in the ingredients would compromise the integrity of Nutella.
"Making Nutella without palm oil would produce an inferior substitute for the real product, it would be a step backward," Ferrero purchasing manager Vincenzo Tapella told Reuters. Palm oil, it says, helps stabilize the spread, keeps it creamy and enhances its shelf life.
The company has also launched an advertising campaign including TV spots filmed at Ferrero's factory in Alba, Italy and newspaper ads to assure consumers Nutella is safe for consumption.
But there's also a major financial element at play.
An attempt to swap out palm oil for a similar ingredient could have steep economic implications. Wholesale, it's one of the least expensive vegetable oils at around $800 a ton-– while sunflower oil is around $845 and rapeseed oil is $920. While these oils have been used as palm oil substitutes by other other companies, Ferrero says that sunflower oil would change the spread's character.
FOR THE LATEST FOOD & DRINK FEATURES FOLLOW FOX LIFESTYLE ON FACEBOOK
Currently, Ferrero uses approximately 185,000 tons of palm oil a year. A potential replacement, could drive up compay costs an estimated $8 to $22 million annually, according to Reuters calculations.
Throughout Europe, many food producers have already taken steps to move away from palm oil, the harvesting of which environmentalists claim leads to deforestation.
Italy's biggest supermarket chain-- Coop-- has boycotted palm oil in all of its branded products after the EFSA study was released.
Coop labeled the move a "precaution" but Italy's largest baker, Barilla, soon followed and eliminated palm oil from its products, too.
UPDATE: David Elvy, a representative for the Ferrero company based in the U.K. reiterated the company's stance on its use of palm oil in the following statement emailed to FoxNews.com:
"The health and safety of consumers is an absolute and first priority for Ferrero and we confirm that Ferrero products are safe.
EFSA (European Food Safety Authority) has analyzed the presence of contaminants in a large number of products and oils stating that the presence of contaminants depends on the oils and fats used as well as the processes they are subjected to.
It is for this reason that Ferrero carefully selects quality raw materials and applies specific industrial processes that limit their presence to minimum levels, fully in line with advice from the EFSA. In addition, we constantly monitor such factors and guarantee the food safety of our products to the consumer."