Now you can brew Campbell's soup in your Keurig with new savory pods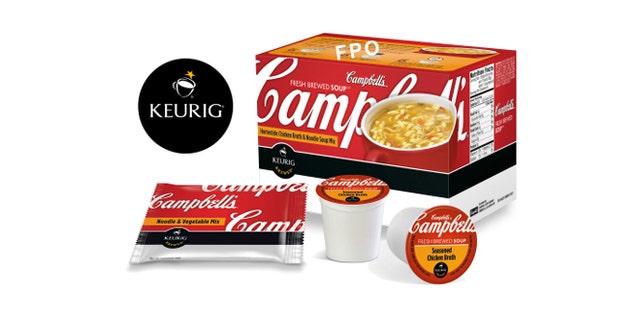 NEWYou can now listen to Fox News articles!
Coffee giant Keurig has started its first official foray into food with the release of Campbell's soup cartridges.
Currently available in two flavors—Home Style Chicken Noodle Soup and Southwest Style Chicken Noodle Soup—the savory cartridges work just like coffee pods. First, users empty a dried noodle packet into a bowl. Then insert your select soup mix and in just a few seconds, you've got steaming hot broth to pour over your noodles.
"The union of Campbell's great taste and the speed and convenience of Keurig invites new consumption occasions and positions both companies to better meet the growing snacking needs of consumers in the U.S.," said Brian P. Kelley, President and CEO of Green Mountain Coffee Roasters, Keurig's parent operation.
General Mills already produces Progresso soup and Nature Valley oatmeal pouches with compatible K-cup brewing pods but those are not licensed with Keurig.
The companies are positioning the soup mixes, which clock in at about 70 calories per serving, as "ultra-convenient" and a mini meal or a midday pick me up.
And if you're worried about infusing coffee into your savory soup, you should be. Campbell's recommends running a hot water cycle through your machine before inserting a savory pod—but anyone whose used a machine before knows certain coffee flavors are pretty strong.
The new soups are currently only available through Keurig directly, but will soon be launched on Amazon.com. An 8-pack of cups and packets retails for $11.99.