North Carolina city 'bans' unpopular candy ahead of Halloween: 'No one likes them'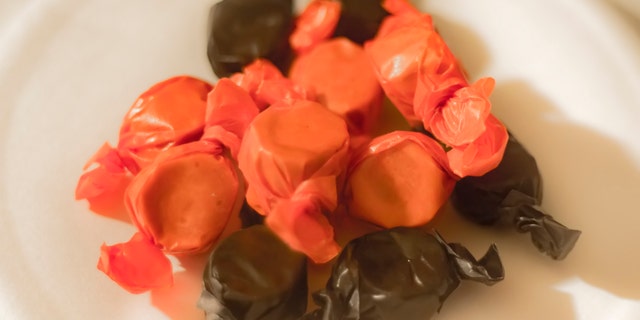 One North Carolina city is cracking down on a Halloween candy that is allegedly so loathed by officials, that they felt compelled to issue a playful "ban" on its distribution ahead of the holiday.
Last week, the City of High Point announced the news on Facebook — giving locals ample warning to avoid purchasing the old-school taffies for Oct. 31 at all costs. They also shared a photo of what appeared to be candies sometimes referred to as Peanut Butter Kisses.
"Alright everybody, we're giving you a one-week notice as you prepare for trick-or-treaters to remind y'all that by order of the City of High Point Emperor of Acceptable Candy (it's a real thing), these are banned. No one likes them, don't give them out," a High Point rep wrote on Facebook, sharing an image of the candy in a post that has since been liked over 1,000 and times and sparked more than 300 comments.
HALLOWEEN CANDY HEIST? MAJORITY OF PARENTS ADMIT TO STEALING SWEETS FROM TRICK-OR-TREATING KIDS
Notably, Peanut Butter Kisses were named the fifth worst candy of 2018 as per CandyStore.com's rankings list, which is produced using data from over 40,000 customer surveys. For context, the controversial treat made the list alongside classic candies such as Circus Peanuts, Wax Cola Bottles, Necco Wafers and Tootsie Rolls.
Meanwhile, Facebook users quickly erupted in debate regarding High Point's Halloween ban of the confection.
"Still not sure what this candy tries to be. Is it taffy? Is it caramel? Is it peanut butter mixed with cement? No matter what it is, it's awful," one critic of the candy said.
"I remember getting those as a kid. YUK," one user recalled.
"No, I disagree. They are perfect for the adults I get that say their children are in the car too tired to come to the door. Or the teenagers way too old and no costume. Therefore, I have different bowls of candy!" a supporter argued.
Continued criticism of the Peanut Butter Kisses ban was apparently so harsh, that administrators for the High Point Facebook page issued another message on the holiday hoax.
"There seems to be a little confusion from some of our out of town friends: this.is.clearly.a.joke. We're just saying maybe you won't be the most popular house on the street if you hand these out," they wrote on Oct. 30.
FOLLOW US ON FACEBOOK FOR MORE FOX LIFESTYLE NEWS
Nevertheless, some Facebook users had already moved on to rallying energy around the possible prohibition of another divisive sweet.
"What should we do concerning the scourge of candy corn?" one said.