Nicole Kidman does not like Giada De Laurentiis' pizza recipe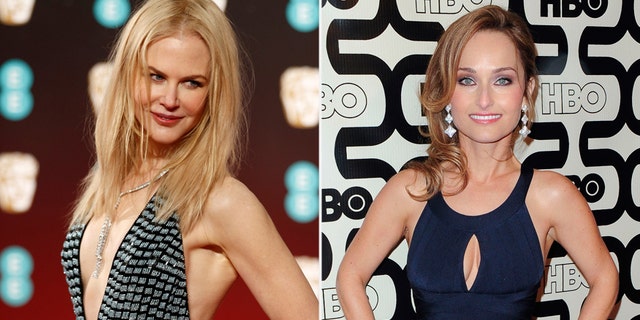 Well, we know one person who won't be watching the new season of "Food Network Star."
During a visit to "The Ellen DeGeneres Show" on Wednesday, Giada De Laurentiis failed to impress Nicole Kidman with her recipe for focaccia bread pizza — and we know this because the "Big Little Lies" actress told the celebrity chef she wasn't really a fan.
5 THINGS YOU DIDN'T KNOW ABOUT GIADA DE LAURENTIIS
De Laurentiis, who was visiting "Ellen" to promote the 13th season of "Food Network Star," began her cooking segment by teaching DeGeneres and Kidman how to make arancini balls out of leftover risotto. Things seemed a bit jumbled from the start — De Laurentiis and DeGeneres were keen to embrace the "ball" jokes that popped into their heads — but the segment didn't really go off the rails until the celebrity chef shared her idea for a clementine and fennel focaccia.
As the three women were preparing the pizza dough, De Laurentiis could barely be heard shouting instructions to DeGeneres and Kidman over the audience's laughter. At one point, De Laurentiis even says, "It's a good thing this isn't live," presumably because the segment wasn't going as she planned.
She then makes the mistake of reminding DeGeneres that they both share an affinity for anise seeds, which prompts a confused DeGeneres to wonder aloud whether she's talking about anuses.
Soon after, De Laurentiis flat-out remarks that the cooking demo "is not going the way I was hoping."
Near the end of the six-minute segment, DeGeneres picks up a piece of the pre-made focaccia pizza and tears off a chunk with her front teeth. It becomes clear that the crust is a little tougher than she expected, and she plays up her exaggerated chewing motions to the audience's delight.
"Why do I even do a cooking segment?" joked a visibly frustrated De Laurentiis. "I don't even know why I bother!"
FOLLOW US ON FACEBOOK FOR MORE FOX LIFESTYLE NEWS
Finally, Kidman offers her opinion of the pizza. "I know you're not meant to criticize, but it's a little tough," she said before spitting it into a napkin.
"Nicole, it's been sitting there for, like, five hours!" De Laurentiis, who had chided Kidman's lack of cooking skills earlier in the segment, says with a laugh. "I hate doing these things for that reason."
To her credit, though, De Laurentiis took their criticisms in stride, and even managed to plug the season premier of "Food Network Star" — which airs June 9 — before DeGeneres cut to a commercial.
Somehow, we don't imagine Kidman wrote that down in her calendar.