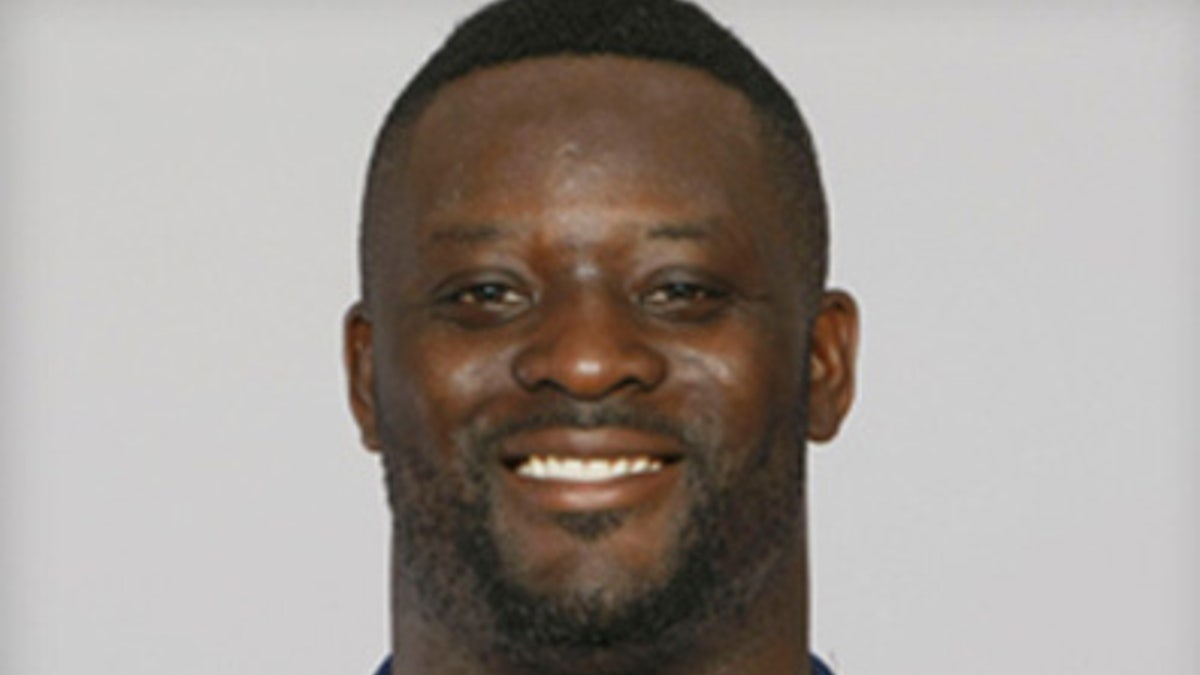 "Thank God for buffets. When we were at LSU, Mr. Gatti's was $4.99. It kept you full, made you happy. Buffets was all we did. Those and Ramen noodles," says Houston Texans Defensive End, Jarvis Green. Eight seasons with the New England Patriots and two championship rings later, his tastes are more discriminating, but just as democratic. Jarvis Green loves good food and he wants you to love it too.
His Super Bowl spread will include some or all of the following: queso and ground meat dip with a blend of cheeses; buffalo shrimp dip; lemon pepper chicken, Norwegian salmon fillet with capers and a chipotle dill sauce; gumbo; shrimp, grilled and chilled, with homemade cocktail sauce; and surf n' turf—a nice roast and lobster tails. Green cooks as good as he talks: "I'll cut the lobster tails, serve 'em on a bed of rice in a sauce with half and half, basic seasonings, bell peppers, green onions, garlic. Like the base of a crawfish etouffee. Just a nice sauce for the lobster to sit in, a little sweet, little spice."
He may even serve jalapeño poppers using former Patriots teammate, Steve Neal's recipe. "We used to cook them for training camp. We'd make 'em really hot and give 'em to the rookies. Then we'd sit and watch them crying and sweating their butts off. It was sweet," he reminisces.
Unlike most foodies, Green is not averse to torturing the innocent, and he's not one to pore over cookbooks. "If it's something I want, I just try it. I go by taste. I say to my wife, 'I'm gonna cook this babe, wish me luck.'" Green's wife, Rakia, knows more about food than he does. She's currently enrolled at the Denver campus of Johnson and Wales University, one of the country's top culinary institutions.
"My wife, oh my God, I married a fantastic cook. That's the only reason I married her. I'm serious," he laughs. Rakia's bread pudding is by all accounts a work of art. "She made some the other day, I go away and the kids devoured it. I mean, they just killed it," he says. So he asks for the recipe. She refuses. He asks that she cook it with him. No go. He sees her recipe box on her nightstand, starts going through it, gets caught. "She goes: 'What are you doing with my recipe box? Give me that. You don't need that.'" He hasn't seen it since. "I will make it," he vows. "I will watch her. I will study her. And I will make it."
Green credits his mom with shaping his tastes and talent. "On a cooking scale of one to 100, I'm about a sixty. My mom's a 125. Whatever she had was whatever he ate. Oysters on a cracker with hot sauce when he was five (and not as a punishment), sardines, crabmeat, mackerel with the bones in. "Never had anything I didn't like, except for liver," he says. His grandmother, also a fabulous cook, "was all about 'taste this, taste, that,' all those little things grew my palate." His grandmother also let him "tear up her kitchen" which helped turn him into a cook in his own right.
When Green left tiny Donaldson, Louisiana for LSU, he tore up his own kitchen making, among other things, pasta with meat sauce. "I had a collection of industrial-sized pots," he says, "must have been a thirty-five gallon pots and I filled 'em." He peeled twelve to sixteen pounds of tomatoes, added tomato paste, cooked up three to four pounds of sausage, four to five pounds of ground beef and lots of spaghetti. Since he hates pasta, "I'd also cook a ten-pound bag of rice." For perspective, one cup of dry rice makes four cups of cooked rice.
Green would tell his teammates there was food on the stove and leave his door unlocked so that any of the guys could go in and eat at any time. (He also used to leave his car in a parking lot with the key in it for his teammates, too.) The only rules: "Clean the plates. Don't dirty nothing up and if you use the bathroom, keep it clean. It was great. I loved it," he says.
He's a big stew guy who "cooks for my Mom, cooks for my friends, cooks for my teammates. And I cook with my daughters." It's important to him that they learn the difference between saturated and unsaturated fats, how to use salt and that they learn about quantities and portions. Mostly, though, he just wants them to love food, which he encourages with kid-friendly recipes like, "San Francisco Bread."
Take good bread, he says, like an authentic baguette, cut it in half, "slide butter across it, then some mayo, sprinkle it with mozzarella or parmesan and bake it for about eight to twelve minutes until it's bubbling." Let the kids customize with it pepperoni, olives, tomatoes, whatever they want; it makes them vested in the meal. This is actually one of the few recipes that you can pry out of him. That's because he creates most of his dishes from scratch using the "little bit of this, little bit of that" technique used by great home cooks and chefs. It's also because, in addition to everything else they share and treasure, both Mr. and Mrs. Green hoard their recipes.
Other than cooking and playing ball, Green owns a Louisiana construction company—he studied construction engineering—was a restaurateur and may be one again. He also runs the Jarvis Green Foundation, which supports single mothers.
Reminiscing about his two Super Bowl wins Green says: "Yeah, it feels good to win but I don't feel bad for none of them if they lose. It's not about that. People forget that it's any given Sunday. Even for the Super Bowl. People forget that when it comes to sports."
----------
Buffalo Shrimp Dip
Serve with warm French bread
Serves 12
1 lb. cooked shrimp, chopped
6 Tablespoons hot pepper sauce of your choice
8 ounces cream cheese
12 ounces Monterey jack cheese, shredded
1. Preheat oven to 350°F.
2. Spray casserole dish or deep dish pie plate with cooking spray.
3. Combine cream cheese with hot pepper sauce and mix well.
4. Fold in shrimp and shredded cheese.
5. Spread mixture in casserole or pie dish and bake for 10-15 minutes or until bubbly and slightly brown.
6. Serve with warm French bread, tortillas or chips, or celery and carrot sticks.
Gumbo
Serves 10-12
Prep time: 25 minutes
Cook time: 3 hours
Notes: A roux is a cooked mixture of flour and oil or butter used to thicken agent a soup or sauce.
1 1/2 to 2 lbs. chicken wings
McCormick Season-All Accent, garlic powder and pepper to taste
2 lbs. sausage
2 lbs. peeled, de-veined medium sized shrimp
1 1/2 cups flour
1 cup oil or 2 sticks of Smart Balance spread or butter
6-8 cups of water
1 cup chopped Vidalia onions
1 cup chopped yellow onions
1 cup scallions or green onions
1 cup chopped bell peppers
1/4 cup finely chopped garlic
3 bay leaves
3 to 4 cups cooked white rice
1. Wash and season chicken using Season All, garlic powder and black pepper, set aside.
2. Peel and de-vein shrimp. Season and place in refrigerator until needed.
3. Cut sausage into 1/2-inch slices and set aside.
4. In a 2-gallon pot, heat oil, spread or butter over medium heat. Whisk or stir in flour, stirring constantly until a golden brown roux (see note) is achieved. Do not scorch the roux! If you do, the entire pot of gumbo will taste scorched.
5. Add all onions, bell pepper and garlic. Sauté for 5-7 minutes or until vegetables become transparent or soft.
6. Add chicken and sausage. Sauté for another 15-20 minutes.
7. Add water 1c. at a time, until all ingredients are mixed together.
8. Add bay leaves and season gumbo to taste using season-all, black pepper, garlic powder and accent. Taste occasionally to ensure gumbo is well seasoned and flavorful. Bring to a boil, reduce heat and let simmer for 1 hr. Skim any oil or fat that rises to the top of the pot. Cook an additional 30 min. if necessary or until chicken is tender and separated from the bone. Adjust seasonings if necessary.
9. Add shrimp the last 20 minutes of cooking time.
10. Serve over hot rice.
Steve Neal and Jarvis Green's Jalapeño Poppers
Serves 5
Prep time: 5 minutes
Cook time: 20 minutes
10 jalapeños
1 8-ounce package of cream cheese
1 package of thick-cut bacon (8-10 strips)
Toothpicks
1. Pre-heat oven to 400 degrees
2. Rinse off jalapeños
3. Pat dry w/ paper towels
4. Cut them in half lengthwise
5. Remove the membrane and some seeds, leaving a few for spice
6. Fill the inside of the pepper with cream cheese then put the two halves back together.
7. Wrap pepper with the bacon and secure with a toothpick.
8. Bake in the oven about 20 min. or until the bacon is brown and crispy.