New food words added to the dictionary in 2014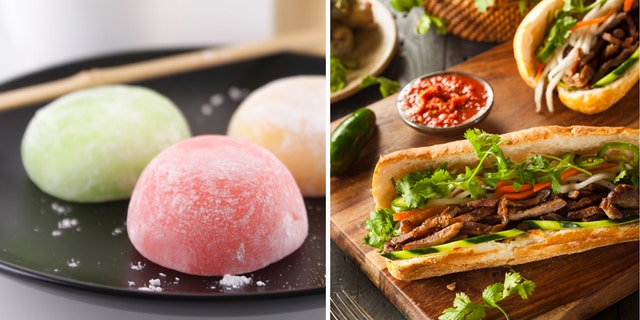 It's hard to remember an era when words like "sushi" and "burrito" were not a part of the everyday American lexicon.
But food culture has always been a reflection of the changing times -- and 2014 was no exception.
The American Heritage Dictionary, Oxford Dictionaries Online, and Merriam-Webster all added several new foodie phrasings to their repertoire this year. The adoption of the words marks an important tipping point as the culture from which they originated assimilates into Western language.
"Our food editor looks at a variety of not only menus, but checks food sources, looks at recipes that are published in newspapers, blogs," Steve Kleinedler, the executive editor for American Heritage Dictionaries, told Boston NPR's Here & Now. "And seeing how wide the term is used — is it restricted to just these regional cuisines, or does it have a more national flavor to it."
In other words, if a word only appears on certain Middle-Eastern restaurant menus and no place else, it will not be likely candidate for addition. But when an ingredient starts to frequently appear in everyday cookbooks or even news stories-- that is indication that it's ready to be mainstreamed.
In the first half of the 20th century, French cooking terms dominated the scene. By the early 90's, Latin American cuisine had infiltrated every sector of North American life. And the past 10 years have seen a proliferation of terms from India and Southeast Asia.
This year AHD added a total of 500 new words— not surprisingly many like "clickbait" have a digital focus. Four of those were food related, five if you count the ubiquitous "pregame."
Kleinedler told the Boston Globe that the proliferation of cooking shows, and of food media in general, has heightened awareness of previously obscure terms and quickly popularizes global ingredients.
"I remember seven or eight years ago on 'Top Chef,' they were on a ras al hanout kick, where every other dish had ras al hanout," he said. Ras al hanout is a North African spice that entered AHD in 2011. For next year, Kleinder says the dictionary is already considering "churrasco"—the Portuguese and Spanish term for grilled meats; "dunkel beer" – a dark German brew, perhaps as a nod to the overall popularity of craft breweries; and "moqueca" --Brazilian fish stew.
So what new words made the cut in 2014? Check out the lists below and see if some your new favorites made the mainstream menu.
American Heritage Dictionary
Bahn Mi – Vietnamese sandwich served on a baguette, usually with meat and pickled vegetables
Halloumi—a brined cheese, often made with sheep or goat's milk, popular in Greece and Turkey
Mochi—sweet, doughy Japanese treat made from rice
Saison—fruity Belgian ale
Pregame—To drink, often heavily, before attending an event or party
Oxford Dictionaries Online
Arancini—Little rice or risotto balls, popular Italian appetizer
Cavatelli, Cappellacii, and Trofie—Three new pasta shapes: Small twisted shell, stuffed dumpling, and short thin twists, respectively)
Queso—Cheese, a shortened from of Chile con Queso
Guanciale—an Italian cured meat, traditionally made from pork cheek
Izakaya—Small plates in Japanese restaurant
Merriam-Webster
Aji—Spicy Latin American pepper
Brat—A shortened term for the German "bratwurst"
Croque-Monsieur—Classic French grilled ham-and-cheese sandwich, topped with béchamel
Crudo—Raw seafood preparation
Pepita—Pumpkin seed that has usually been dried or toasted
Pho—Vietnamese noodle soup, traditionally made with ox-tail broth
Poutine—Canadian dish of French fries topped with gravy and cheese curds
Yuzu—A Japanese citrus fruit