New 'cutting-edge' McDonald's offers table service and 'floating glass garden'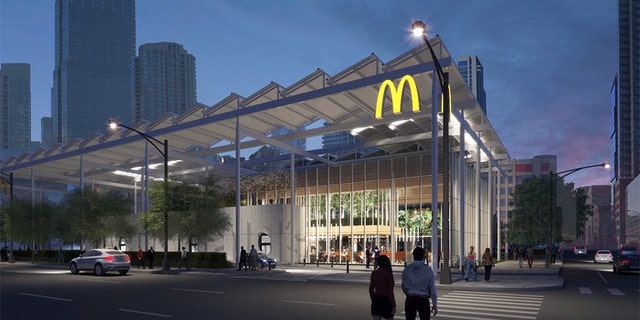 McDonald's is getting an Instagram-friendly facelift.
The fast food mega-chain has announced plans for a futuristic new restaurant made of glass and steel with floating apple trees that are planned to stick out of the restaurant's roof, according to a press release.
The palatial 19,000 square foot restaurant will feature both touchscreen kiosks – which are popping up in several McDonald's across the country – as well as table service where employees will carry food out to customers.
MCDONALD'S TO ELIMINATE FOAM DRINK CUPS FROM MENU, WORK TOWARD 'FIBER-BASED PACKAGING'
The company is hoping its shiny new design tucked into a plaza surrounded by 70 trees will win big with millennials and younger audiences.
The building, which is set to open this spring in Chicago in place of a previous rock n' roll-themed McDonalds, will be LEED certified and feature on-site solar panels to collect energy. The hamburger joint has also said the kitchen will use low-oil fryers and an energy-efficient HVAC unit.
But the new "Experience the Future" campaign doesn't stop at eco-friendly fryers and a glass structure. The new eatery will also have a "floating glass garden" with ferns and white birch trees above the ordering area, and a living wall, Chicago Tribune reported.
While the McDonald's presence may seem different, McDonald's franchise owner Nick Karavites says it's (mostly) still the same old favorite.
FOLLOW US ON FACEBOOK FOR MORE FOX LIFESTYLE NEWS
"There's a lot of pride being part of something so cutting-edge. … At the end of day, we're still a business selling hamburgers and french fries and milkshakes and we want to sell as many as we can," said Karavites to the Chicago Tribune, whose family's franchise group owns 24 McDonald's restaurants in the Chicago area.
For those who don't want to dine in under the 27-foot ceilings, the restaurant has been designed to work better with mobile ordering and curbside pickups.
Though there will be fewer parking spaces as a way to entice people to bike or walk to the restaurant.