Nestle launches supersize coffee brewing system to take on Keurig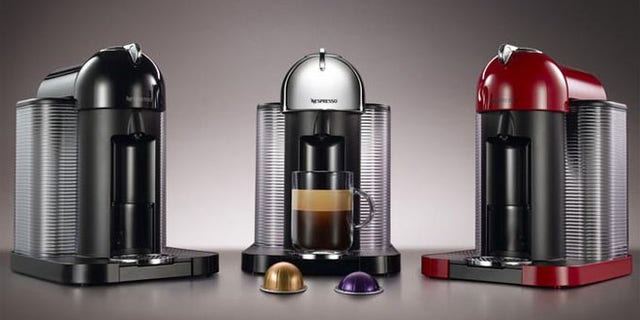 Americans sure love their large cup of coffee.
That's something that Nestle, with its supersizing Nespresso brewing system VertuoLine, is hoping to capitalize on.
The new single-serve coffee system uses different capsules than those that fit into the popular Keurig machines. It produces eight types of 8-ounce servings along with four espresso blends, including its first-ever half-caffeinated Grand Cru, vanilla and hazelnut flavors.
The capsules also come equipped with barcodes on the rim which automatically recognize what kind of brew you're making so you don't have to manually adjust the settings each time. How's that for blindly making your morning coffee.
The U.S. is brewing a taste for single-serve coffees. According to Euromonitor, North America is the second-largest in the $8 billion single-serve market, behind only Europe. While Nestle blows away the European market with its 70 percent share, it has just a 3 percent share in the U.S. That's compared with Green Mountain's Keurig machines that dominate with a 72 percent share.
Several other companies have their own single-serving machines, including Cuisinart, Mr. Coffee and even Starbucks.
"The North American portioned coffee category has seen tremendous growth, with sales tripling in just three years," said Frederic Levy, president of Nespresso USA in a release. "Despite a number of in-home offerings in this market, there is no system that delivers the quality and taste in a large-cup offering for which Nespresso is known."
It's unclear whether Nestle will be able to win people over with their idea of a big cup of java as opposed to a dainty shot of espresso.
To get more people drinking their coffee, Nespresso has been opening a string of boutiques across the U.S., with the latest location in Dallas. Last year it opened its largest in Beverly Hills, Calif.
This month, Nespresso will take VertuoLine for a 17-city tour, where people can get free coffee and a demonstration of how the system works. Go grab yourself a big cup while you can.
VertuoLine sells for $299 and will be available at Nespresso boutiques and at retailers including Macy's Inc., Bloomingdale's and Williams-Sonoma.