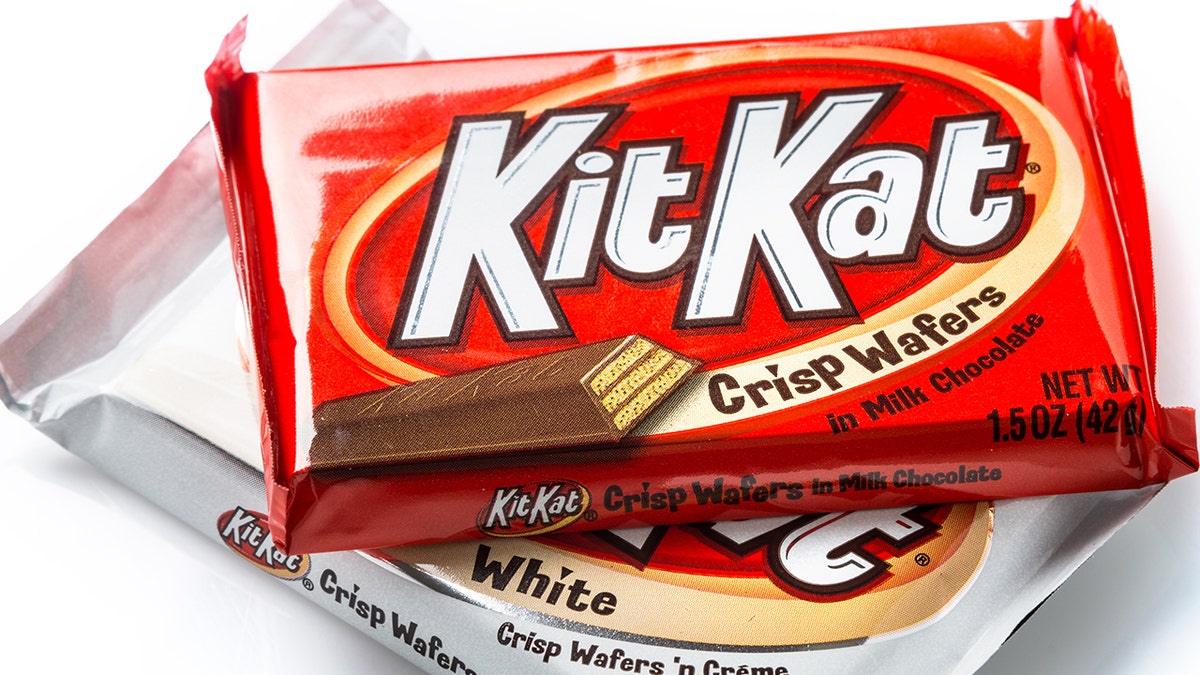 After a seven-year fight against candy-making rival Cadbury, Nestlé lost the latest legal battle to be able to trademark the four-fingered shape of its popular milk chocolate-covered wafer candy bar, KitKat, in the UK.
On May 17, the Court of Appeal ruled against the Swiss food company, stating that the design of the KitKat has "no inherent distinctiveness."
After months of deliberation, the three appeals judges found that the three-dimensional shape of the candy is not a "badge of origin," reports The Guardian.
CALIFORNIA WOMAN SUES CANDY COMPANY OVER MOVIE-THEATER MIKE AND IKE BOX
While KitKat's four-fingered shape might be best known in association with that specific candy, the appeals judges found that doesn't mean consumers would rely on it alone to identify the product, according to The Guardian.
"These kinds of recognition and association do not amount to distinctiveness for trademark purposes," a judge remarked, according to The Guardian.
The court's ruling marks the latest step in the battle between Nestlé and Mondelēz, which owns Cadbury, Oreo and several other brands in the U.S., over the KitKat trademark. Nestlé first attempted to register its trademark in 2010, but the application to be the sole producer of a four-fingered chocolate bar was opposed by Cadbury, reports Chicago Tribune.
According to court proceedings, Nestlé spent between £3 million and £11 million (USD $3.9 to nearly $14.3 million) a year advertising and promoting KitKats between 1996 and 2007.
The ruling isn't necessarily the end of the road for Nestlé. A spokesperson told The Guardian the Swiss company is considering next steps, potentially taking the case to the UK Supreme Court-- the country's highest.
FOLLOW US ON FACEBOOK FOR MORE FOX LIFESTYLE NEWS
Nestlé currently holds trademarks for the shape the KitKat bar in several other countries, including Germany, France, Australia, South Africa and Canada, helping protect it from imitation in those nations.
Following the ruling, a Mondelēz spokesperson stated the company does not believe the KitKat bar shape should be trademarked in the UK, The Guardian reports.
However, protected shape trademarks are not unprecedented. Toblerone, which is owned by Mondelēz, successfully trademarked the "zigzag prism" shape of its candy, according to The Guardian.