Mr. Food Still Oh So Good After 30 Years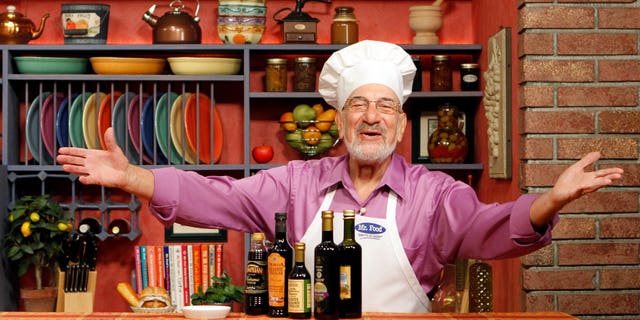 FORT LAUDERDALE, Fla. – It's hard to imagine, but Art Ginsburg has spent 30 years quietly turning himself into an unlikely food celebrity, an icon with a multimillion dollar brand, all under the radar of the culinary elite.
And he wouldn't have it any other way.
Ginsburg is Mr. Food. In classic white chef's hat, he's the guy who goes: "Ooh, it's so good!" as he shows off quick and easy meals in 90-second segments on local TV shows around the country.
He has 51 cookbooks, kitchen gadgets, electronics. He's looking into a nutrition bar and an iPhone app.
He's friendly and fun — even off camera.
"I could have been called Mr. Cucumber the rest of my life," Ginsburg joked. "Or Mr. Pot and Pan. Mr. Food is better."
His company won't disclose his worth but said the brand brings in millions every year, including revenue from a recipe-based website, Mrfood.com, that gets 10,000 to 14,000 new subscribers each week. Not bad for a butcher-turned-caterer-turned-television chef who isn't considered a big name among food enthusiasts.
So why don't foodies know Mr. Food?
For one thing, Ginsburg regularly uses packaged products while top chefs bust a gut cooking from scratch with the best ingredients grown locally, said Tanya Steel, editor-in-chief of Epicurious.com.
"There is a huge roster of food celebrities out at this point in the marketplace. There's just so many of them, and generally they are top chefs from the best restaurants," she said.
Secondly, Mr. Food's syndicated segments are featured on local news shows, just like the local weather and sports. "That audience (local news) has gotten smaller and older. Maybe that's why he's not as well known in regular food circles as perhaps he would like," Steel said.
In 2007, Ginsburg's popularity peaked at 168 stations, but advertising dollars for local programming faltered. After a brief dip to just over 100, these days he's back up to 125-plus stations around the nation.
"They're seeing that Mr. Food can be a profit center to the station because of Internet sponsorships, associations and sponsorships with Mr. Food," said Howard Rosenthal, Ginsburg's right hand man as vice president of Ginsburg Enterprises Inc., based in Fort Lauderdale, Fla.
Most of Ginsburg's shows are taped there, in his own studio. On a recent day, he taped 13 segments, not actually cooking on air but instead walking viewers through the steps and revealing a finished dish at the end.
He sticks to the basics and uses products anyone can get from the supermarket or find in their own cupboard. That and his folksy way makes it easy for fans to think he lives in their neighborhoods.
"It seems like he's been around for a really long time in my market," said Lynn Hetzler, 48, of Ashton, Ill. "We also see chefs from the Chicago area and you wonder where in the heck these people live that they get food like this. But he (Mr. Food) cooks food that locals can cook and eat."
That hometown effect may be Art Ginsburg's golden ticket.
"He's nationally recognized but locally embraced," Rosenthal said. "Everybody thinks he's local. So that trust and feeling of connecting with him, he's like everyone's favorite uncle."
Ginsburg grew up in the meat business, ran a catering company and started appearing on television in the early '70s on the show of a friend. His Mr. Food vignettes were syndicated in nine television markets by 1980. Now, he has close to 4 million daily viewers.
He credits the mainstream food culture for continued success.
"The Food Network certainly has helped instill interest in cooking. That's for darn sure. I think that's helped me, too," said Ginsburg, who's in his 70s.
The main difference between him and the big names on television like Rachael Ray, with whom Ginsburg is friends, is that he considers himself a friend or neighbor of his fans.
"They're on the Food Network. They're getting a lot of national publicity. And they're getting big money," he said. "And I'm quite comfortable, but let me tell you something. I was always the hometown guy. I don't want to be the super celebrity. When you need bodyguards, that's not my deal."